Alumni Success Story
Alumna and Trustee Margery Kraus honored by Association of Former Members of Congress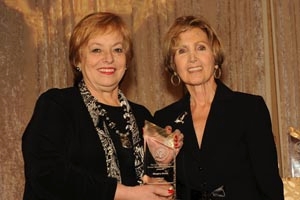 Alumna and trustee, Margery Kraus, SPA/BA '67, SPA/MA '71, was recently honored with the "Corporate Statesmanship Award" from the U.S. Association of Former Members of Congress (FMC) in recognition of her leadership in the philanthropic community. Kraus, founder and CEO of APCO Worldwide, was recognized at FMC's 16th Annual Statesmanship Award Dinner.

Kraus says that fellow AU alumna and former Congresswoman Connie Morella, CAS/MA '67, gave her the news that she would receive the award, "and that was as exciting to me as getting the award." She says the event was a great reunion for her with many members of Congress whom she had known since they were freshmen on the Hill. "This was especially meaningful because it wasn't just a group giving me an award. These were people I knew," she says. "Having people rooting for you and on your side is a very special feeling."
APCO Worldwide is an independent, global communication, stakeholder engagement, and business strategy firm with more than 600 experts in 30 offices around the globe. Calling her one of AU's most successful alumni, Distinguished Professor Jim Thurber, director of the Center for Congressional and Presidential Studies, says, "She is a wonderful example to all of our students, but especially women." 
Kraus, who is keenly focused on empowering young women as she runs one of the largest independently-owned communication consultancies, says that her family is her support system. As a wife, mother, and grandmother, she says that her personal brand of work-life balance would not work for everyone. "I try to be there for the most important things and make up for with experience what I lack in time," she says. To that end, she has built a family tradition of taking each grandchild on an international trip with her when they turn 10 years old. 
Not surprisingly, Kraus says no day is ever the same for her. "I am up at 5:30. I check everything at home," she says. "Since we're a global company, I spend the morning catching up on what's happening in Asia and Europe, then have meetings all day, and usually attend evening receptions."  
Despite her intensely busy schedule, which sometimes includes weeks on end away from home, Kraus finds time to give back to AU. "Margery Kraus has been a strong and long-term supporter of American University, the School of Public Affairs, and especially the Center for Congressional and Presidential Studies through her generous contribution to our benefactor's awards, her guidance, and by sharing her wisdom and knowledge with our students and faculty," says Professor Thurber. He adds that she speaks to students, opens her offices to them as interns and employees, and "has changed the lives of many students in countless ways."