Alumni Success Story
Alumni Admissions Volunteer Chair Shares Passion for AU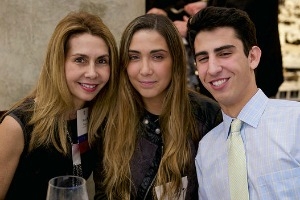 "Growing up in Puerto Rico, and being the daughter of Cuban exiles, I decided to attend AU because it was by far the most international school I had visited," says Maria Luisa Ortega, Kogod/BSBA '85. "Coming from a family where politics and culture were always part of our daily conversation, Washington, DC represented the perfect environment for me." 
After her first visit during her junior year in high school, Maria Luisa knew she wanted to attend college at AU. "I had studied French and Russian growing up, and I was desperate to practice it and mingle with students from different countries," she says.
Maria Luisa enjoys reminiscing about her time at AU in the 1980s. "AU's teachers were the nicest, most helpful and caring. I remember hearing horror stories from friends at other schools, and I felt so proud that my teachers were always there for me," she recalls. With the Reagan administration in office during her time at AU, she has fond memories of that era. "Studying in DC during the Reagan years was absolutely thrilling to me. The United States was at the top of its game, and I was at AU enjoying all that glory," she proclaims.   
During her junior year at AU, Maria Luisa secured an internship at an advertising and marketing firm in Georgetown. That internship turned into a part-time job during her senior year. While completing her degree at the Kogod School of Business, Maria Luisa also studied French, Russian, and Italian. She believes this combination helped her obtain the job she wanted as an account executive in a Miami advertising agency upon graduation. 
With her daughter, Claudia Iturregui, CAS/BA '16, a current student at AU, Maria Luisa is delighted to share a legacy tie. "The pride that I feel having my daughter at AU cannot be measured. To know that Claudia is having experiences very similar to the ones I had is something for which I have no words," she exclaims. Maria Luisa believes her experiences at AU in the 1980s aren't that different from her daughter's experiences today. "It's as international and political as always, and she tells me the teachers are as nice as ever," she says. 
Maria Luisa resides in Coral Gables, Florida with her son, Enrique Iturregui, a high school senior. She owns and manages a franchise called Mr. Pretzels with stores in Florida and Georgia. "I love this kind of business because it deals with everything I studied at Kogod: accounting, finance, advertising, and manufacturing," she says.
As a long-time AU Alumni Admissions Volunteer (AAV) and chair of the AAV network, volunteering her time to AU has been very satisfying for Maria Luisa. The AAV network includes alumni and parents who assist admissions in the recruitment of prospective students. It is the largest group of AU alumni volunteers with more than 600 members in 38 states and 14 countries. "To be able to help AU recruit students who show great intellect, who are passionate, and who want to leave a mark in this world, what is better than that," she exclaims. 
Reflecting on her role as AAV network chair, Maria Luisa says she wants to attract more alumni to share their pride and love for AU with prospective students. "It is time for us to give back to the school that helped us grow, that trained and prepared us for what was to come and that ultimately pushed us out into the world as success stories waiting to happen," she declares.