Alumni Success Story
Green Czar: Mark Sylvia Leads
Massachusetts' Environmental Future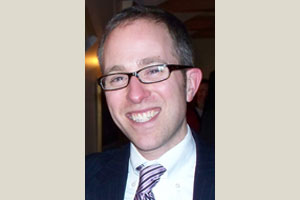 Massachusetts is leading the nation with a progressive agenda, and the Green Communities Act will support clean energy efforts in the state and make our environment safer and stronger, says Mark Sylvia, SPA/BA '96, SPA/MPA '98.
The newly appointed director of the Green Communities Division in the state's Department of Energy Resources says the program is one of the first of its kind in the nation. As director of Green Communities, Sylvia will assist cities and towns with energy efficiency opportunities, renewable energy projects, and other clean power issues.
"I am excited to be part of Governor Deval Patrick's administration," Sylvia says. "It's always been my goal to work in state government."
This is Sylvia's first state-wide position with responsibility for 351 cities and towns. For the past decade, he was town manager of Plymouth, where he oversaw an annual budget of $141 million in a city of 60,000 people. At 30, he was the youngest person in the state's history to be appointed to the position, and he played a leading role in a number of high-profile accomplishments for the town, including securing funding for new high schools and a senior center, negotiating of a $37 million tax agreement and new Emergency Operations Center with the Entergy Nuclear Generation Co., and reorganizing several municipal departments and investment in technology and energy strategies.
Sylvia, who came to D.C. from Fairhaven, Mass., says coming to AU was "the best decision I made for college and professional career." While a student, he was active in campus life as president of the Student Confederation, he was a resident assistant, and a member of a fraternity. He also had an internship on the Capitol Hill with his congressman, Barney Frank (D-MA).
"I've always loved politics," says Sylvia. He singles out three AU professors for stoking his passion. Bernard Ross, emeritus professor, was "very interesting in terms of his real-life experience working in New York," he says. David Rosenbloom, distinguished professor, introduced Sylvia to the legal aspects of public administration. And Candice Nelson was "just amazing with how she grabbed your attention."