Alumni Profile
SIS Alumna Defeats Hiring Trends and Defines Service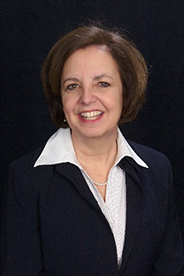 American University Alumni Association board member, Merri Uckert, SIS/BA '77, who retired as Colonel after nearly 29 years of active duty service in the United States Air Force, contributes her brave, adventurous spirit to her American University study abroad experience. "My semester studying at the University of Copenhagen, Denmark probably shaped me the most," she says. "Growing up a bit sheltered in Holbrook, New York, my semester in Denmark opened my eyes to the world! Although I lived with a Danish family, I was able to travel on the EurailPass every weekend to explore the other European countries."

While her immediate career goals were to work in intelligence, the economy was facing a recession following her graduation. The intelligence agencies were hiring accountants and Russian linguists. In 1978, she found herself attracted to the Air Force because they guaranteed equal pay to men and women. She graduated from American University in three years and joined the military shortly after the Vietnam War, when a small percentage of those serving were female.

"When I looked at the military, it was so much more progressive than the private sector. I was able to use knowledge from my AU School of International Service international studies degree over time as I worked with attachés, was assigned to Korea and Japan, taught national security policy to Air Force ROTC cadets, was an advisor to the Chairman of the Joint Chiefs of Staff, attended Air War College, and rose through the ranks. My SIS experience started me on a solid path to success."

During her AU experience, Merri completed an internship at the American Society for the International Law of the Sea. She also served as president of the SIS Undergraduate Cabinet, working directly with the Dean on issues and policies of the day. In addition, she was a campus tour guide, introducing and selling AU to prospective students.

Merri is now a defense contractor for a mid-sized company in Columbia, Maryland, assigned to an intelligence agency providing systems engineering technical assistance support. Her first role as a defense contractor was supporting the construction of the new National Geospatial Intelligence Agency building in Springfield, Virginia.

"Life has come full circle, and I am working in the intelligence community after all," Merri says. "However, the whole journey working for our nation's Department of Defense has been rewarding—supporting our country, our freedom, and the American way of life."