Alumni Success Story
Two Alumnae Mix Business with Conscience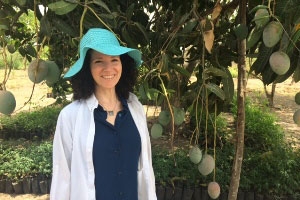 Students buying coffee at Starbucks on campus (and across the nation) can also find a healthy option to munch on between classes: Peeled Snacks. Started by alumna Noha Waibsnaider, CAS/BA '96, Peeled Snacks offers organic dried fruit, trail mix, and other tasty treats. In Dupont Circle, Glen's Garden Market, owned by alumna Danielle Vogel, WCL/JD '07, also sells Peeled Snacks along with a bevy of other organic food and locally-sourced sustainable products.
Noha Waibsnaider found the inspiration to start Peeled Snacks during the anti-globalization protests against the World Trade Organization in 1999. "Seeing the protests on the news, I realized we need people on the inside of business to make a difference," she says.
Noha went to Columbia Business School and landed a job in brand management at a large food company. "Working there, I learned about how horribly processed all of our food is," she says. "Food companies add lots of preservatives, chemicals, and sugar. I realized people deserved better and thought I could make something better."
Thus, Peeled Snacks was born.
Inspired by her childhood in Israel, where people have been eating dried fruit and nuts for thousands of years to make the fruit last longer after harvest, Noha started Peeled Snacks in 2005 with dried mangos. She works closely with the farmers in Mexico to ensure they use sustainable practices and that the local economy benefits from the business. Peeled Snacks is a certified B Corp, meaning it focuses on benefiting all stakeholders and is held to rigorous standards regarding the social and environmental impact of its business decisions. Peeled Snacks are sold nationwide at Starbucks, Hudson News, Giant, Whole Foods, and locally at Glen's Garden Market.
Danielle Vogel focused on environmental law while completing her degree at the Washington College of Law. She went on to work in the Senate on climate change legislation, but when the political climate proved that legislative progress was at an impasse, she decided to create her own change by opening Glen's Garden Market. "We call it progress one bite at a time," Danielle says. "We have created a space where our neighbors can only make good choices for the environment."
All products sold at Glen's are locally-sourced from the six states in the Chesapeake Bay Watershed, and the building is constructed with sustainable and reclaimed materials. But Danielle is not only committed to the environment, she also helps fellow green entrepreneurs by launching their brands in the store.
"We grow small businesses along with our own... That is how we expand this movement beyond our four walls. We help grow, incubate, and accelerate small food brands that treat their land, animals, and ingredients with respect," Danielle says.
In its first two years, Glen's Garden Market has launched more than 35 other small businesses by providing them with a first opportunity to sell their product in a grocery store. Danielle is also focused on a second location in Shaw at the intersection of 8th and U streets, slated to open in November 2015.
Both Danielle and Noha say their AU education has been immensely helpful in starting and running their businesses. Noha says her major in Spanish and Latin American studies helps her establish relationships with Mexican farmers and understand their culture as well as the issues they face. Danielle says her degree from the Washington College of Law has given her the knowledge to negotiate contracts and the confidence to succeed in a male-dominated industry.