Alumni Success Story
Pam Kaufman Markets Family-Friendly
Nickelodeon Brand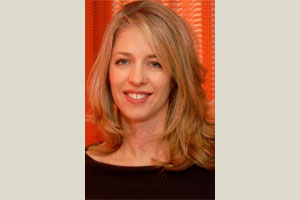 The best career advice Pamela Kaufman gives to people is the one she's followed in her own life, "Listen to your gut. If the job is fun and enlightening and you think you'd be good at it, then go for it."

As chief marketing officer for Nickelodeon/MTVN Kids and Family Group, Kaufman may have one of the most fun jobs a grown-up can have. With audiences in 175 countries, Kaufman is the marketing force behind beloved characters such as SpongeBob SquarePants and Dora the Explorer that have spawned hundreds of consumer products bearing the Nickelodeon brand.

Kaufman, SOC/BA '85 came to American University because "Washington, DC seemed like such a cool city," she says. As a public communications major, Kaufman had hoped to become a television anchor. But a different career path opened before her: graphic design, coordinating fashion shoots, and managing advertising accounts for national brands – such as creating a marketing plan for fast-food toy characters about to get their TV début: The Simpsons – that led to high-profile marketing achievements in the entertainment industry.

As the number-one entertainment network for children for the past 14 years, the Nickelodeon brand includes The N, Nick at Nite, NOGGIN, and Nicktoons Network. Kaufman's challenge is to bring the brand to life with efforts such as the "Slime Across America" tour that reconnects families with Nickelodeon's trademark slime logo, developing the network's music brand with Sony Music Label Group by co-producing TV and music projects, opening Nickelodeon Universe at Mall of America, and launching the Nickelodeon Family Cruise by Royal Caribbean, and serving as the company's diversity leader.

Based in New York City, Kaufman leads a division of more than 100 people while balancing a demanding career with her family life.

Before joining Nickelodeon nearly 12 years ago, Kaufman worked as vice president at Turner Broadcasting System, Inc.

Kaufman has received numerous awards for her professional achievements: Advertising Age's Entertainment Marketer of the Year in 2002, Brandweek's 1999 Grand Marketer of the Year, and the Marketer of the Year in 1998 and 1995 from Promo Magazine.