Alumni Success Story
Sanford '98 Cultivates Microsoft Software and Seattle Alumni Chapter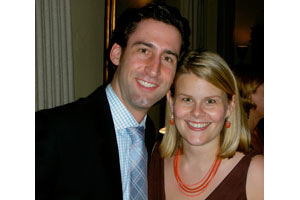 Paul Sanford, SOC/BA '98, plugs into two types of networks—one driven by technology and the other of a more human sort. As senior product manager at Microsoft and leader of the Seattle Alumni Chapter, he says the impetus for both positions stems from his student experience.
"My turning point – why I am where I am today – came from my exposure to technology while interning at the Computer and Communications Industry Association from 1997-98," he says. "I started out doing press clippings and performing basic office tasks. Later, I attended committee hearings and created briefings for the team on various legislative topics, including Internet legislation."  
He thanks Glenn Davidson, SIS/BA '75, who helped him get the internship. The two still keep in touch, more than 10 years later. This experience showed Sanford the importance of connections.  
"Take experiences as they come and be in the moment," he suggests. "There will be many ebbs and flows in one's career, highs and lows, but nothing's permanent. I advise others to network. Taking that attitude will set you up for the next opportunity."  
"I work with many talented, intelligent people," Sanford says of his work building marketing strategies with the product and sales teams, building demos, and giving presentations at conferences worldwide. Microsoft recognized his outstanding contributions to the product development process with two awards in three years with products such as BizTalk RFID, BizTalk Server, Visual Studio, and Windows Azure.  
Sanford says it's great to work at Microsoft. "I even met with Bill Gates at his home once to ask some questions," he says. "It was amazing!"  
Led to AU by a three-week summer experience program in high school, Sanford says, "both AU and D.C. blew me away" on his first visit to D.C. from the small Michigan town where he grew up. He takes pride in the fact that he went on to work as an intern for U.S. Senator Carl Levin from Michigan.  
Sanford also met his future wife, Carrie Stephenson Sanford, SPA/BA '99, as a first-year student. "We met on the first floor of Letts, and the rest is history." They recently celebrated the birth of their second son.  
Prior to joining Microsoft in 2007, Sanford received his MBA from Wake Forest University and worked for seven years as a software consultant for companies such as ADP, Cendant, Wachovia, T-Mobile, Penske, and Zurich North America. "Working on the front lines with customers, I gained an appreciation for their concerns and needs, which instilled in me a customer-first perspective that I have carried over to my time working at Microsoft's corporate headquarters," he says.  
That customer-first perspective serves Sanford well in organizing alumni chapter events such as a happy hour and Mariner's baseball game and a family day at the Seattle Children's Museum. On June 12, he joined fellow alumni for a wine tasting at Novelty Hill, Januik Winery in Woodinville, Wash., that included a guided tour of the winery and a wine tasting 101 class.  

"It is a beautiful winery and was a fun place to reconnect with alumni," he says, "I invite alumni in the other Washington—Washington State—to join us in the future," he says.