Alumni Profile
Accomplished Alumna: Rachel Weiner Cohen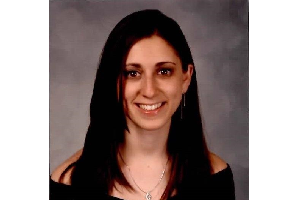 For many AU students, their experience with AU begins in the midst of their own college search. For Rachel Weiner Cohen, SPA/BA '04, WCL/JD '08, her experience as an Eagle began with her older brother's search, and continues 10 years after her own graduation.

Rachel arrived on campus in fall 2001 and throughout her undergraduate experience took advantage of all the school has to offer. She served as vice president for the Class of 2005 and an RA in Letts Hall. She was also an active member of Phi Sigma Sigma sorority, the cheerleading team, the University Honors Program, and the SPA Leadership Program. In December 2004, Rachel graduated summa cum laude from the School of Public Affairs with a double major in Communications, Legal Institutions, Economics, and Government (CLEG) and public communication. She received the prestigious Stafford H. Cassell award and served as the 2005 student commencement speaker for SPA.

With her BA in hand and an impressive résumé of accomplishments, Rachel decided her next step was to pursue a degree at the Washington College of Law. "I chose AU again for law school because not only could I keep my apartment, I was confident that the collegial atmosphere would encourage students to learn collaboratively," she says. "Further, the school's longstanding history of providing women access to education, and its dedication to public interest and public service squarely fit into my own goals and ideals."

Rachel held various positions as a law student, including as law clerk for the Office of the Public Defender in Rockville, MD, intern to the Honorable Paul L. Friedman, student attorney in the Criminal Division of DC Law Students in Court, and Marshall-Brennan Constitutional Literacy Fellow. She even had a chance to teach constitutional law to local high school students. She graduated magna cum laude in May 2008, and was elected to the Order of the Coif and selected as the student commencement speaker.

Following commencement, Rachel used her passion and education to start her career by clerking for the Honorable Freda L. Wolfson of the United States District Court for the District of New Jersey, and the Honorable Sharon Prost, WCL/JD '79, of the United States Court of Appeals for the Federal Circuit . "While in school, I knew I wanted to help those who could not easily help themselves. While this passion has not changed, I have been lucky enough to find a way to meet these goals while pursuing other areas of law that have also interested me," she says.

Rachel's interest in intellectual property litigation sparked a career when she joined Wilmer Cutler Pickering Hale and Dorr LLP (also known as WilmerHale), a recognized leader in intellectual property law complemented by its strong commitment to public service and community involvement. In her five years with the firm, Rachel has had the opportunity to put her AU and WCL education to good use in a variety of areas. "I have significant experience in federal district court and at the Federal Circuit. I focus on cases involving a wide range of technologies, including mobile multimedia, mobile and web applications, pharmaceuticals, and biologics. In addition, through the firm's robust pro bono program, I have continued working with the Office of the Public Defender in Rockville, Maryland on an appellate case."

In 2015, Rachel was appointed to the American University Alumni Board. "I was looking for a more formal way to learn what's happening on campus, serve as a liaison between the AU community and alumni, and work to shape AU and WCL in the future," she says. As a board member, she has telephoned new students to welcome them to the AU community, attended senior barbecues, and helped to plan events both for current students and fellow alumni. This year Rachel was also selected as a member of the AU Hillel Board of Directors.

"At AU, I met some of my best friends, learned from extraordinary professors, and fine-tuned the skills I use daily to succeed in my career. Having grown personally and professionally due to my experiences at AU and WCL, I cannot imagine not giving back to past, present, and future Eagles. Once an Eagle, Always an Eagle."