Alumni Profile
On and Off the Field: Merging Practice and Passion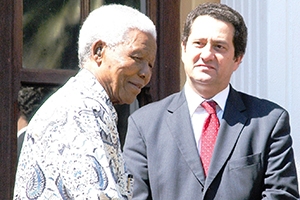 "The harder I work, the luckier I get. You make your own breaks in the business world, or in the sports world. Nothing falls into your lap."  
A stalwart in the field of sports broadcasting and management, Richard Dorfman, CAS/BA '74, began his academic career at American University in 1970, after he was recruited due to his exceptional athleticism in soccer and track and field. After almost 30 years in the sports business, Dorfman professes that he always knew what he wanted to do professionally, and that he needed to acquire a certain set of skills to achieve those goals. 
Richard attended AU when there were hardly any sports management programs in the country. He instead opted to pursue a bachelor's in communication and business, knowing that he wanted to learn about broadcasting, and that he needed to know how to read a balance sheet. While at AU, he was a fierce competitor and immense contributor to the university's soccer and rugby teams. 
Located in the nation's capital and influenced by the social context of the 1970s, Richard recognized that change was in the air and within this counter-cultural moment, his generation could 'break all the rules' of his parents' norms. He believed this presented an opportunity to take an alternate career path, wherein innovative and entrepreneurial approaches meant that he could accomplish things in a different way. This mindset ensured that Richard's career would blossom from being public relations manager for the Washington Diplomats Soccer Club, to being the director of broadcasting and founder of the NBA Entertainment of the National Basketball Association, to later working directly with Nelson Mandela to make the third Rugby World Cup in South Africa in 1995 a reality. 
In recounting the most memorable experiences in his career, which include spearheading the creation of the A1 Grand Prix Racing Circuit, representing high profile broadcast events such as the FIFA World Cup, Wimbledon, and USGA Tournaments, Richard reminisces on his very first job after graduating from American University. He remembers earning $50 every week after landing the job at the Washington Diplomats Soccer Club. In order to afford that job, he moonlighted as a bouncer in Georgetown from 8 p.m. until 2 a.m. each day. Jovially, but with conviction, he stresses, "You have to really want it. This is not a business for wallflowers. The field of sports management has evolved. There are so many academic programs now, and the business has become a lot more competitive and cutthroat. However, the experiences necessary for being successful in the field have not changed that radically."  
Richard recommends that current students participate in internships and do absolutely anything they can at a radio station, newspaper, or an athletic sports department. Richard also believes that "if you're not agile, you get left behind." He not only refers to how rapidly the broadcast industry has changed, from straight rights deal broadcasting, to slicing and dicing of news access, cable television and IPTV (internet protocol television), but because he has had to adapt and reinvent himself several times over the course of his career. His advice to students is to get as smart as you can, in as many relevant subject areas as you can, as there is no single clear cut path in any professional field.
Though he has had several monumental moments throughout his remarkable career, Richard is keen on highlighting that nothing compares to meeting and working directly with former president of South Africa, Nelson Mandela. The Rugby World Cup was the first international event to take place in South Africa following the end of apartheid. In 1995, for the very first time in history, blacks in South Africa were allowed to play on a national team. Being close to Mandela, and witnessing how his stamp of approval galvanized an entire country, allowed him to witness a critical moment in yet another cultural reformation. For Richard, this was the most bewitching sporting and social experience in his career. This event eventually became the subject of the 2009 Clint Eastwood film, Invictus. 
Though officially retired, Richard was elected recently to the Sarasota County, Fla., Charter Review Board, and is involved heavily with state and local politics. Currently, his energy is focused on his independent consulting firm and volunteering with AU Athletics Eagles Leadership Council. He also supports a number of non-profit organizations including the Glasser Schoenbaum Human Services Center, home to more than 17 nonprofit health and human services helping low income and at-risk adults and children.