Alumni Success Story
SPA Alumna Makes Career Move to University of California, Berkeley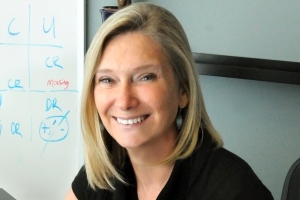 Rosemarie Rae, SPA/MPA '09, was recently named associate vice chancellor of finance and chief financial officer at the University of California, Berkeley. As a graduate of AU's public administration and Key Executive Leadership programs in 2009, Rosemarie actually started her graduate work late in her career. "I was in my mid-forties when I joined cohort 36. It was career- and life-changing. But I do contribute the experience I had at American University as a direct link to where I am now," she says.
Coming up on her one-year anniversary at UC Berkeley, Rosemarie actually spent the last 15 to 20 years in the nonprofit sector. "I used a lot of my research experience from my cohort," she says. "So many of the things I learned have really proven to be cornerstones of what guides my work today. I spend most of my time at Berkley in strategic conversation, and I really learned the art of strategic thinking from professor Robert Tobias, director of business development for the key executive leadership program, and other AU professors," Rosemarie adds.
Rosemarie shares that most of her current work is related to finance. Her undergraduate degree is in accounting;she sat for CPA exam and passed, and this has helped her tremendously over the years. However, the brunt of her work focuses on the alignment with other C-level executives at Berkeley and how they think about resource allocations. Additionally, they spend a vast amount of time figuring out the best use of their limited resources and how it supports the institution's strategic vision. 
Prior to beginning at Berkeley, Rosemarie served as the chief financial and administrative officer of The National Trust for Historic Preservation as well as executive vice president, chief strategy officer, and CFO at Volunteers of America. Berkeley is her first job in higher education. She says, "My nonprofit experience was similar in nature to higher education, so I felt well prepared."
Before her career change, Rosemarie went back to graduate school at AU for herself. She says, "I'm originally from the east coast, and I was eager to be in an academic setting and have an opportunity to learn and explore new ideas. It was far more rewarding than I ever thought it would be."
Her advice to students is the same advice she gives now as an administrator: "You have to realize that people really do want to help you. Whether it be your professors or your peers, tap into the resources that are offered to you. Mentorship is a great thing, professors are great, but think beyond the professor to someone who is in your field. Build your career by taking an interest in a range of things that will be helpful for career advancement," she says.
Her final thought for students, "Take a leadership role every chance you get, you'll need to strengthen that muscle if you want to be in a place of power in your future."