Alumni Success Story
SIS Alumna Spends Free Time Advocating for Women
Shayna McCready, SIS/MA '14 shares with the Alumni Association her experiences as an ambassador and founding member of the DC committee for Ladies Get Paid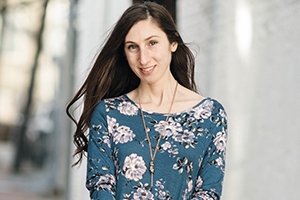 While her day job is spent as a federal contractor for the US Department of State, Shayna McCready, SIS/MA '14, stays plenty busy and passionate outside of work as an Ambassador and founding member of the Washington, D.C., committee for Ladies Get Paid (LGP).
The educational and community-based organization provides tools and resources to help women advocate for their value in the workplace, which hopefully leads to increased recognition and rewards.
"When I am not managing U.S. funding for diplomacy and development, training for a race, or volunteering at my local Yoga studio and the Washington English Center as an ESL tutor, I am organizing and bringing women together across the DMV," Shayna says. "Since launching LGP in New York in 2016, we've hosted seven town halls with over 700 attendees. Our community is global with over 3,000 members."
Shayna feels the momentum LGP is building will evolve into a global women's movement. She credits her American University School of International Service (SIS) graduate program experience as well as her career in global diplomacy and peacebuilding for her passion in building networks to expand female expectations.
The AU experience provided Shayna with opportunities to engage in various fieldwork experiences. She completed a Graduate Practicum researching factors influencing economic resilience in Rwanda with Global Communities as well as an Alternative Study Abroad (also in Rwanda) and volunteered for needs assessment research in Haiti.
"I wanted to attend SIS to have the opportunities to engage directly with the leadership shaping the world of international diplomacy and development," Shayna expresses. "Washington, D.C. is a unique place to study in that you can read and study a topic in a book and then physically head over to dialogue with individuals working in the US federal agencies, working groups, and forums where the topics you read about are being discussed in real-time."
During her studies, she recalls working under Professor Loubna Skalli Hanna, which provided her the unique chance to explore research on the intersection of development, politics, gender, youth, culture and communication.
"In many places around the world including the US, when women's rights are threatened and systems of equality are undermined, everyone suffers the collateral damage," Shayna says. "No society is immune from backlashes, especially in relation to gender and equality. There is a continuous need for vigilance for women's and girls' full enjoyment of their social, political, and economic rights."