Alumni Profile
Shreen Khan Connects Dots to Tell the World's Untold Stories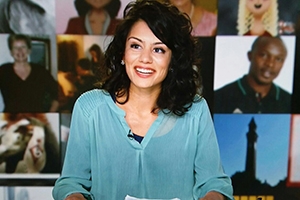 Shreen Khan, CAS/BA '08, SIS/MA '12, grew up in Connecticut with her two sisters. At home, she was part of a tightknit family of storytellers. She grew up listening to stories about connection and migration. Away from home, Shreen often felt isolated by her differences. She was the only Indian child in her grade, the "only person with spicy food in my lunch box." Growing up, she was always looking for that connection to culture and diversity from her childhood stories. She found that at American University.

Shreen says she was "excited to go somewhere with lots of diversity and lots of kinds of diversity." When she began at AU, Shreen lived at Leonard Hall where she had the opportunity to meet people from all over the world. "Even though AU has a lot of work to do on inclusion and diversity, that was something really amazing to experience," she says.

Although pursuing journalism wasn't originally on her path as a student, through her courses she began to take a more active interest in how race, gender, and culture impact individual lives. It was the class People and Cultures of the Middle East that put her on her current path. "Everything linked together in that class. After working for a few years, I wanted to get back to how I felt in that class," she recalls. The course inspired her to return to AU for her master's degree. While studying, she became increasingly interested in journalism. A storyteller at heart, she became sure that when she graduated, she wanted to work at Al Jazeera.  

Shreen began as a production fellow and worked her way up while taking on increasing responsibilities. She now works in San Francisco as a producer for AJ Plus, the digital channel of Al Jazeera English. Her career has allowed her the opportunity to interview an array of fascinating individuals. "The interview I did that really stuck with me was interviewing a former US drone technician turned whistleblower, Lisa [Ling]. The chance to meet someone like her and hear from her perspective was something I wouldn't get to experience anywhere else," she says. Her current job is focused on finding the stories that are off the radar and that would normally be absent from most US news sources. Shreen describes her role as a "dream job." It's no wonder: all a storyteller hopes to do is to tell stories that are true, authentic, and often overlooked.