Alumni Profile
Communications is Key to Success for Brown Alumni Officer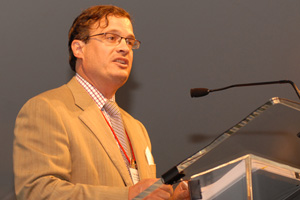 "I have the best job at Brown [because] I communicate with people who are happy to see me," says Todd Andrews, SOC/MA '95. As the vice president for alumni relations at Brown University, his undergraduate alma mater, Andrews enthusiastically fosters connections between the university and alumni while promoting Brown's agenda.  

For the past six years, Andrews has welcomed Brown alumni back to campus and traveled around the world to address them. Under the leadership of President Ruth Simmons, Brown diversified its geographic outreach, and alumni relations' robust structure of 115 alumni clubs reflects the face of the university. Andrews believes each alumnus to be an ambassador for Brown, and he has been astounded by the overwhelmingly positive response from alumni, in particular volunteers, who demonstrate a strong commitment for Brown.

Before he was approached by university leadership in 2005, Andrews wasn't looking for a job in higher education. But in Andrews, Brown saw a leader with proven strength in the communications field who could effectively engage the interests of alumni while advancing the goals of the university. Andrews' undergraduate experience (Brown '83), ties to Brown's home of Providence, Rhode Island, and service as an alumni volunteer guided him home.

Andrews' career moved him from the public to the private sector before he came to higher education at Brown. From director of corporate communications for CVS Corporation to his direction of campaign and congressional communications, Andrews' experiences enriched his toolkit but he looked to enhance his skill set with an advanced degree.   

Andrews pursued his master's degree in journalism and public affairs at AU's School of Communication (SOC). The program accommodated the demands of full-time work while exposing him to excellent faculty members and great lectures. Andrews recalls that AU's program was progressive, in particular with regard to use of the Internet in the 1990s. Offering flexible and "cutting-edge" teaching, Andrews notes AU was ahead of other institutions with its global view. Though not a working journalist, SOC's curriculum was a perfect fit for Andrews. 

At the helm of alumni relations operations, Andrews contributes to Brown's successes. In its most recent campaign, Brown yielded $1.6 billion; praising his colleagues in the development office, Andrews noted that their collaborative partnerships ensured that Brown's goals were met. Aware of the worthwhile goals, including financial aid and faculty interests, alumni philanthropic response was strong. Such investment in Brown's future generations will support students who are "committed to a better world, smart, and nimble."

With essential staff and financial resources to reach their more than 90,000 alumni, Brown connects in person and online with alumni. In addition to event programming for clubs and affinity groups, the inception of BRUnet, Brown's online career network, also fosters alumni connections, conveys the value of a Brown degree, and serves as a resource to alumni and recent graduates. 

Andrews shares that it is a privilege and an honor to be part of the Brown community. In communicating messages to fellow alumni, he expounds, "higher education has an exciting story to tell." Looking ahead to future connections with community members, Andrews notes, "It's a great time to be at Brown."