Alumni Success Story
AU Alumna Sunny Hobbs Poised to Make Speedy Comeback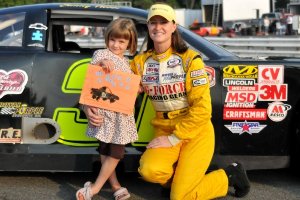 After years in the fast lane – literally – Sunny Hobbs, BA/SIS '92, put her career as a racecar driver on hold to start a family. But now that her twin girls are four years old, and her son is two, she is back on the track and looking forward to having her family cheer her on. But Hobbs knows it won't be easy: "It's tough. I think returning to a career is tough for any woman who has kids… but I think people go back to what they love, and that's what I'm trying to do."
Hobbs discovered her need for speed after graduating from American University with a degree in international relations. She was drawn to both the driving and engineering aspects of racing as well as the fierce competition. Hobbs explains, "It's extremely competitive. Everybody in the top five or ten at any track is a hundredth of a second off of each other in terms of speed… You're always on the edge."
She says her time at AU has helped her succeed. "The experience I had at American was such a positive one. It gave me the confidence to believe I could do whatever I wanted to do. Obviously, racing cars doesn't have anything to do with international relations, but I do think it makes me more marketable. It helps me in my sponsor search and in dealing with other people in sports," she says.
Hobbs also has maintained friendships with her Alpha Chi Omega sorority sisters. When she raced at Daytona Speedway, five of her sorority sisters cheered her on from the stands.
Staging a comeback is a challenge, but Hobbs is driven. "Last year, all I wanted to do was get back in a racecar, any racecar. It didn't matter where it was or what kind of track it was on. I didn't care. I just needed to get in a car, so I could say I had raced," she recalls.
During the past six months, Hobbs has been behind the wheel and searching for sponsors – a particularly difficult task in this economy for any professional driver. She recently raced at Old Dominion Speedway and placed second, along with two teammates, in a four-hour endurance race at Summit Point.
She also was back at the legendary Daytona Speedway recently to qualify for ARCA races – which she says is the NASCAR equivalent to baseball's minor leagues.
It's clear that Hobbs is making progress and loves what she does. "Racing requires your absolute focus. You cannot waver your focus for one second, or you'll make a huge mistake. And that's what I like about it – everything else just fades away."