Alumni Success Story
Talila Lewis '07 works tirelessly to help solve the world's injustices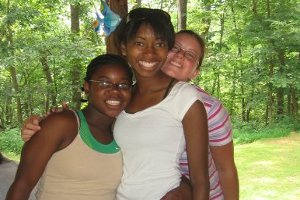 Talila A. Lewis, SPA/BA '07, is not your average young alum. Sure, she has a typical day job as a paralegal for the D.C. government, but Lewis also runs a non-profit, independently assists attorneys who serve Deaf clients, advocates for the rights of Deaf inmates and wrongfully convicted individuals, educates others about the Deaf community, created a community improvement group that provides volunteers to the local community, and just completed a two year stint as the director of a Deaf camp. Lewis readily admits that she doesn't get much sleep. "My motto is 'no excuses,'" she says. 
Helping Educate to Advance the Rights of the Deaf – or HEARD – is the nonprofit organization that Lewis created to advance the legal rights of Deaf and hard of hearing individuals. She co-founded a nonprofit that works with the DC Public Library to improve Deaf literacy. She also is heavily involved with Deaf communities in Central America. Her passion for service to others stems from a huge heart and her belief that everyone should work to help solve the world's injustices.
As a student, Lewis enjoyed getting to know her justice professors, several of whom, she says, continue to be influential. She would have appeared, to most, an average wonk – highly motivated, focused and intent on making a difference in the world. One thing, though, Lewis says would have surprised her classmates and professors: "I was homeless during some of my time at AU," Lewis says, clearly neither proud nor ashamed.
Looking back, Lewis recalls the secret that she kept even from her closest friends and mentors. Her positive attitude and resolute spirit surely kept Lewis going, even as she struggled to work three jobs and attend school full time "I would study at the library until it closed, then sleep in my van. In the morning, I would go to the gym, shower and go to class and work," she explains. "Sure, people would have helped me if I asked, but it was not something I was inclined to discuss."
At AU, Lewis was accepted into the Justice Program Office's clinical program, Agencies in Cooperation for Effective Services (ACES). ACES provides opportunities for students to work as interns in justice settings, usually as advocates for defendants, offenders and community re-entrants. "My inspiration to reform the legal system began with ACES," Lewis recalls. As for her particular penchant for work with the Deaf, Lewis explains that she "fell in love" with Deaf culture while attending primary school with Deaf children. It was during her internship at the Public Defender Service, however, after she unearthed a wrongful conviction case involving a Deaf man who did not receive proper access to the legal system, that she realized her calling.
Now Lewis is thinking about adding one more project to her list: helping AU students who may have trouble finding or maintaining housing, as she did. She believes that everyone should work toward improving their communities. "If we all work together," she says, "I really do believe there's nothing we can't do." She plans to continue her legal reform efforts as a public interest attorney—she will begin studies at AU's Washington College of Law this fall.