Alumni Profile
Literature Major Takes Unlikely Career Path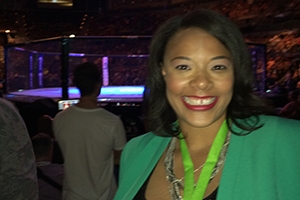 When she came to American University as a literature major, Tara Jackson, CAS/BA '06, did not have plans to enter the sports business. She says she had always been a fan of sports, but didn't consider a career in the field until she started her first full-time job. Today, Tara serves as director of international partnership activation for the UFC (Ultimate Fighting Championship), a position in which she oversees sponsorships for UFC in global markets.
Tara made the decision to come to AU without visiting campus or seeing the school beforehand. She says what attracted her to AU, above all the other schools she considered, was the international student body. In high school, she developed a strong interest in meeting people from other backgrounds and learning as much as she could about the world from the people around her. Today, she channels that interest into her work.
In her role, Tara needs to know a great deal about the UFC and its operations, but she also needs to know a lot about the businesses of her international partners. She works with UFC's partners around the world to make sure that the programs that result from these relationships are productive, both for the UFC and for the partner organizations. 
When asked what a typical week in her role is like, Tara laughs. "There is no standard week;" she says. "Much depends on if it's a fight week and I need to travel or on what type of fight it will be, and I am always working across time zones to collaborate with partners around the world. But it is always amazing."
As to what drivers her to put in the long hours and do her work, Tara says, "I love that I get to deal with the passion of people on a massive scale."
Even though she never saw herself in the sports industry, Tara has used the opportunities presented to her at AU to build a successful career at a rapidly growing fixture of the sports industry. As a student, Tara worked at Bowlmor (Strike Bethesda at the time) and was able to convince the CEO to give her an internship in New York City one summer. She used that summer to solidify her interest in marketing, and she hasn't looked back. 
Tara credits a journalism professor at AU with the best advice she has ever received. Her professor said, "As a journalist, you need to be an inch deep and a mile wide." She says that advice has stuck with her throughout her career and is applicable every day in her current position working with sponsorships. She has partners in a diverse array of industries and needs to identify ways to keep all those partners profitable and happy.