Alumni Success Story
Public Service Wonk Shares Time and Energy at State, Local, and University Levels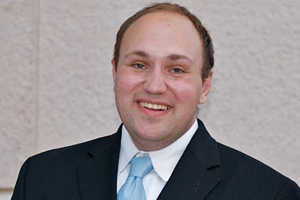 Tim Dodd, SPA/BA '03, says his passion for politics and service began as a teen. But his years at AU solidified a commitment to public service that is manifested through professional and community engagement.
Tim knew he wanted to study political science. He chose AU because of the strength of the government and political studies programs, and because he knew that he'd have the chance to "interact with federal, state, and D.C. agencies." 

During his first month at AU, Tim secured an internship at the White House and later served as a Congressional intern. For a college student with aspirations in public service, these opportunities complemented his participation in the Campaign Management Institute. Today, Tim says he meets professional colleagues who themselves are alumni of CMI.

Active within AU's campus community, Tim participated in student government, taking time off only when he traveled to South Africa, and serving as the Speaker of the "General Assembly" as a senior. Additionally, Tim was active in the Alpha Phi Omega national service fraternity, the Catholic Students' Association, and the Club Crew team. 

Passion for public service features prominently in his post-AU experiences. At age 25, Tim became the youngest member elected to the Board of Selectmen for his hometown of Westborough, Massachusetts. Professionally, he works as local government programs manager within the Massachusetts Executive Office of Administration and Finance where his work takes him across the Commonwealth promoting grant programs and regionalization initiatives. 

A strong supporter of education, Tim earned an M.A. in American History from Providence College and a Doctorate in Law and Policy from Northeastern University, and he serves as a member of the Advisory Board for OneWorld Classrooms, a non-profit that promotes global connections for K-12 educational exchange.

His commitment to education also extends to AU as Tim has met prospective Eagles at a regional interview day and college fair through the Alumni Admissions Volunteers program. He tells students that he "was once in their shoes" and expresses why he chose AU and the impact it made. Tim notes that there are several schools in D.C. but encourages prospective students to look at AU's mission. 

Tim says that he learned at AU that you should "love what you do." And with his energy, Tim is sure to share his passion for public service within his own community and beyond for years to come.