Alumni Success Story
WCL Alumna Discusses Women in Leadership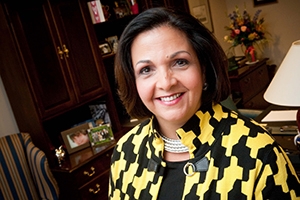 There is no such thing as an average day for Lisa Rickard, WCL/JD '82. As president of the U.S. Chamber Institute for Legal Reform, her work focuses on ways to improve the litigation environment in the United States and selected locales abroad. She talks to institute members about problems they are facing with litigation, advocates on Capitol Hill and works with leadership on legal reform issues. She has traveled as far as Brussels to work with policymakers and discuss the climate in EU countries. She will visit campus in March as a panelist for "Alumni in the KNOW: Women in Leadership" alongside other AU alumnae to discuss and share their experiences as women in leadership.
Before she came to AU, Rickard had a strong interest in the policy arena and wanted to pursue a legal education in the D.C. region. She says AU "combined a strong legal academic training with the opportunities in D.C. to engage on the policy side." When it came to the "intersection with the law and public policy and politics, all of the skillsets you develop in training as a lawyer are directly applicable in the every day," Rickard adds.
As a law student, Rickard worked in the Senate part-time doing research work that enabled her to combine her law school experience with policy. She also developed lifelong friendships with classmates and stays in touch with them to this day.
In addition to her work with the U.S. Chamber Institute for Legal Reform, Rickard serves as president of the Workforce Freedom Initiative and executive vice president of the U.S. Chamber of Commerce. Her experiences in these leadership positions give her insight into what makes an effective leader. When asked what advice she would give to young professional women, Rickard says, "Have confidence in your abilities and emanate those skills to those you interact with. Combine hard work with the willingness to take on new projects as you grow and develop, to reach for more and expand outside your comfort zone."
Rickard will share insights from her experiences during the Alumni in the KNOW: Women in Leadership panel on Wednesday, March 4, at 6:30 p.m. in AU's Mary Graydon Center.
Rickard is looking forward to hearing from students and alumni about how they view the future of women leaders. She hopes to "impart a sense of optimism and the understanding that it is possible to find a path that enables you to find success and to engage in a meaningful dialogue." 
For more information, visit the Alumni in the KNOW series website.