Alumni Success Story
Bormet '03, Douglas '08, Bring New Energy, Talent to Young Alumni Board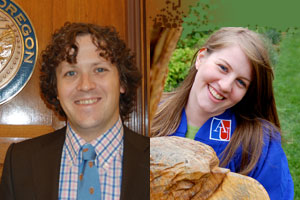 The AU Young Alumni Chapter (YAC) recently welcomed two new volunteers to the 10-person board of directors. Although Matt Bormet, CAS-SPA/BA '03, and Caitlin Douglas, SOC-SPA/BA '08, did not overlap during their time at AU, they share a love of AU and a desire – and the skills – to improve the experience of fellow young alumni in the D.C. area.
Meet the leaders
When he wasn't in class, Matt Bormet spent much of his time at WVAU, planning his weekly radio show and taking advantage of the state-of-the-art sound system at the station. Also a diehard Eagles basketball fan, he attended many games as a student, and has been a season ticket holder since graduation. Bormet has even followed the Eagles on the road, and taken road trips to Worcester, Mass. and Hamilton, N.Y. to cheer on his team.
Like many SPA students, Bormet got his start in politics at a young age. When he was 16, his parents told him he needed to get out of the house more. Their push led him to an internship with the David Wu (D-OR) for Congress campaign, which led to an internship in Wu's Congressional offices, both in Oregon and Washington, D.C. Bormet's parents, a city manager and an audiologist, instilled in him a commitment to public service that he continues to live out as a legislative aide to Senator Ron Wyden (D-OR) today.
Bormet says his favorite part of the job is helping individual constituents when they have a problem with government. "I like being the guy who can help them, and still have faith in the government's ability to help."
Like Bormet, Douglas came to AU with the intention of pursuing a career in public affairs. She, however, quickly came to realize that she much preferred being the person developing the message over being the person delivering the message. Her position handling health communications as an account executive at Ogilvy Public Relations Worldwide fits the bill just right.
"You really can use public relations to positively affect people, and the work gives you an opportunity to become an expert on any topic," she says.
She plans to leverage her contacts from her time as a beat reporter for The Eagle, and an active member of student government to improve YAC outreach to recent graduates.
Both Douglas and Bormet look forward to channeling their AU-developed skills – and spirit – to build a greater presence for the young alumni chapter through more activities, and they welcome ideas from fellow alumni. For more information on the Young Alumni Chapter, including upcoming events and other ways to get involved, visit the Web site.