Alumni Profile
Alumna finds unique hobby in bodybuilding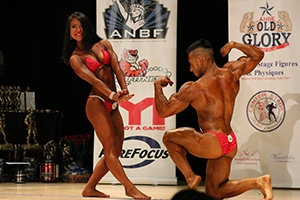 In the summer of 2013, Yumi Matsumura, SIS/BA '11, decided she wanted to do something crazy –something she had never done before. 
She had always had an interest in fitness, and was intrigued by Facebook photos she saw of a high school friend competing in a bodybuilding competition. So, she researched local bodybuilding organizations, attended a competition, and decided that she wanted to compete herself. 
Yumi hired a trainer and worked with a nutritionist, trained for about eight weeks, and participated in her first competition in October 2013. She was hooked, but decided she needed to change her training and nutrition regimen to really be competitive. She hired a new trainer, revamped her approach to nutrition, and competed in two more shows in spring 2014. 
Then, in July 2014, Yumi met her now-boyfriend and training partner, and everything changed. He recognized her from one of her recent shows and they began to chat. Their relationship quickly developed and they began to work together –training, focusing on nutrition, and even practicing posing. 
The pair decided to choreograph a routine together, and last month, for the first time, they competed together in the mixed pair division. In many ways, it was a breakthrough competition for both. Not only did they compete together for the first time, they each won their individual class, and both earned their "Pro Card." Now, they can both compete in the pro division if they choose. 
However, Yumi said she is not quite ready to go pro at this point. "Right now, it's definitely still a hobby," she says, "and it helps to keep that mindset going into shows. You don't feel as pressured." 
Since Yumi competes on the natural bodybuilding circuit, she has to submit to drug testing and polygraph testing prior to competitions. She does not take drugs, but says that she is constantly on the lookout for ways to improve her nutrition. She has an entire cabinet at home dedicated to sports nutrition, including supplements, sugar-free and fat-free foods, as well as sriracha sauce and sugar-free ketchup to help make the massive amounts of chicken she eats more palatable. 
A regular training regimen for Yumi includes up to 90 minutes of cardio at least five days per week, as well as weight training four days per week. In show prep mode, however, there is nothing regular about what she's doing, and she sometimes goes to the gym three times in a day. 
Not only does gym time increase in competition prep mode, food intake does too. Leading up to their recent competition, Yumi and her boyfriend ate 42 pounds of chicken and a jar of peanut butter in just one week. They also each drank nearly two gallons of water per day.
When asked what the future holds for her bodybuilding career, Yumi says, "I plan to continue competing and am looking ahead to my next show in August. While I'm not ready to quit my day job, I would love to be well-known in the bodybuilding field."