Alumni Relations
4400 Massachusetts Avenue NW
Washington
,
DC
20016
United States
A Message from Amy Lampert, SOC/BA '94 Chair of the Alumni Admissions Volunteers Network
Dear Fellow Eagles,        
One of the best ways that I've found to connect with American University students and their families is to host them at a New Eagle Summer Send-Off. I've hosted probably close to two dozen over the years in St. Louis and South Florida, and I love them. It's invigorating and encouraging to meet the incoming students and their parents. And as happy as the students are to attend, their parents are even more excited (It's especially cute when the parents walk in wearing their American University t-shirts). I've found over the years that, among other things, the parents like knowing that their AU host has a home and a job! It tends to give them hope that their own future AU alum might be lucky enough to have the same fate. I've had many students and their parents over the years drive up to four hours to come to one of my Send-Offs if that gives you any idea of how valuable these events are to our incoming AU families. I've always thought that was a little crazy until my own son has creeped closer to high school (he's starting this fall). Now, as a parent, I totally get it and would definitely do the same! Thank you for taking the time to attend or host a Send-Off event in your area this summer. Your time and commitment to these efforts is invaluable. If you are interested in attending or hosting a New Eagle Summer Send-Off in the future, please contact Mina Kato, assistant director of alumni admissions volunteers, at mkato@american.edu.
Your work this last year has helped AU recruit an amazing incoming class. As our admit rate lowers, our student body becomes even more impressive. Our freshman class is made up of movers and shakers, kids at the top of their high school classes with incredibly impressive resumes. Every year I am reminded what a great university we all attended when I see the future standing before me.
As American gears up for the next recruitment year, we thank you for all you have done to help AU continue to be a highly sought after university. Without your help, there is no way we'd have the amazing student body that we do today. Here's to another great year helping to give AU the best student body around!
Warmly,
Amy Lampert, SOC/BA '94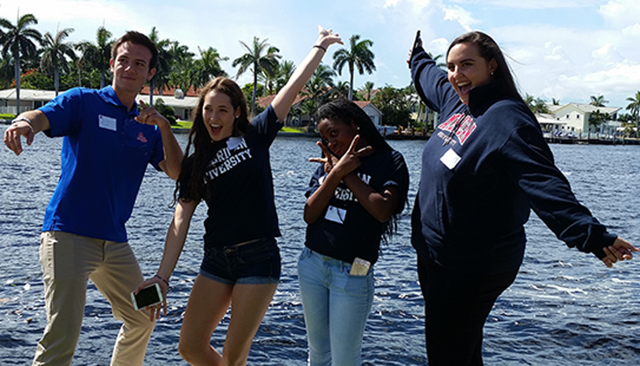 Current AU student Christina Bordeaux describes her experience participating in a Summer Send Off prior to attending AU.