Alumni Relations
4400 Massachusetts Avenue NW
Washington
,
DC
20016
United States
A Message from Amy Lampert, SOC/BA '94 Chair of the Alumni Admissions Volunteers
Dear Fellow Eagles,
Welcome to Spring! Hopefully where you live Spring really has sprung. Here in the Midwest, it's been very cold, but there's been plenty of sunshine along with talk of anxious high school seniors waiting for their college acceptance letters! While students across the United States and throughout the world wait to hear from their schools of choice (hopefully AU is on many lists this year), the hard work of the AU Admissions Office and Alumni Admissions Volunteers is far from over. As we head into the Spring, it's time for us to host and attend Admitted Student Receptions. Having attended and hosted several myself, I can't stress how helpful these get-togethers can be for prospective students and their parents. They get one more chance to speak to their area admissions representative, as well as other potential students and parents before they have to make one of the biggest decisions of their lives. Just as importantly, they get to talk to you – an engaged, enthusiastic alum who has given of your time to help promote your alma mater. I do hope that you'll consider attending an Admitted Student Reception in your area and help unsure students decide on the best university out there.
It's never too early to start thinking about the next group of applicants and beyond – high school juniors and sophomores! This spring they will be enthusiastically attending college fairs, some for their first taste of what's out there and some so that they can narrow down their choices and get ready for some college visits and applications over the next several months. When your area AU admissions representative travels to your town for a National Association for College Admission Counseling (NACAC) fair or local college fair, please consider joining them at the American University table. I've volunteered at many college fairs over the years, and while I might not be able to answer every single question, I've been able to help my area representative and speak to interested students and parents about what a great place AU is. I've loved meeting everyone over the years and always walk away from a college fair feeling like it was a worthwhile experience for everyone involved.
Another thing it's not too early to think about is Summer Send Offs. Hosted over the summer for incoming students and their parents to get together before they head off to school, these are great events that couldn't be easier to host and attend. I've hosted these in St. Louis and South Florida for more years than I care to count, and I always enjoy them immensely primarily because my guests always enjoy getting to talk to one another. If there's one in your area, please consider attending. If there's not already one and you'd like to change that, please reach out to Mina Kato in the Office of Alumni Relations to see if you can set one up in your town. As the years have gone by, I've learned so much about today's AU just from talking to these families. It's wonderful to see the enthusiasm and excitement for the new journey that they're all about to start.
As always, thank you so much for all that you do for American University and the Alumni Admissions Volunteer Program. Thank you for attending college fairs, interviewing students, writing letters of recommendation, and attending admissions events throughout this last school year. Because of your continued help, many families will get the personal connection that they deserve when trying to make such a big life decision. Keep up the great work!
Warmly,

Amy Lampert, SOC/BA '94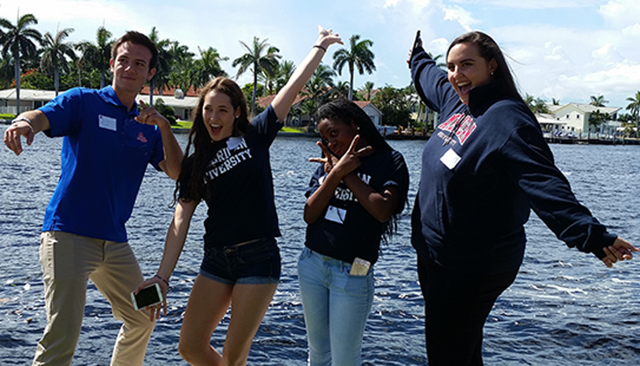 Current AU student Christina Bordeaux describes her experience participating in a Summer Send Off prior to attending AU.