Alumni Relations
4400 Massachusetts Avenue NW
Washington
,
DC
20016
United States
A Message from Kayla Rohr Assistant Director of Admissions, Office of Enrollment

Hello, Admissions Volunteers!
My name is Kayla Rohr. I am one of the Assistant Directors in the Office of Admissions and I work closely with the Office of Development through their admissions volunteer program. Each fall we travel the country and the globe hoping to connect with students that will one day fill our classrooms, campus and organizations with passion, excitement and ideas that will change the world. Throughout this process we visit high schools, attend college fairs and conduct interviews – all of these events reach hundreds of students and inspire them to pursue their next step in their educational careers with American University. A portion of our work could not be done without the support of our committed volunteers, like yourself. Thank you for taking the time to give back to American University in such a meaningful way. I look forward to connecting with you throughout the fall.
Warmly,
Kayla Rohr
Assistant Director of Admissions
Kayla joined the Office of Enrollment at American University as an Assistant Director of Admissions in December of 2016. She is responsible for undergraduate recruitment and admission for undergraduate students attending school in Alabama, Mississippi, Kentucky, Georgia, North Carolina, South Carolina, Tennessee, and Louisiana. She also works with transfer applicants with last names starting with the letter Q,R, and U. Prior to joining the Admissions Office, Kayla received her M.Ed. from The University of Virginia in Higher Education Administration, worked with undergraduate students in the Student Success Office at Piedmont Virginia Community College and worked to enroll undergraduate students at her Alma mater Radford University. Her advice for prospective students is to be authentic and genuine throughout the application process. Her favorite place in DC is in the stands at any Washington Wizards or Washington Nationals game!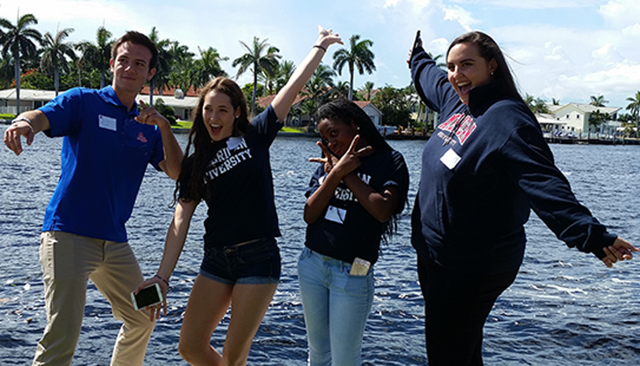 Current AU student Christina Bordeaux describes her experience participating in a Summer Send Off prior to attending AU.