International
Cultural Exchange:  Susan Lehrman Endows Russian Chair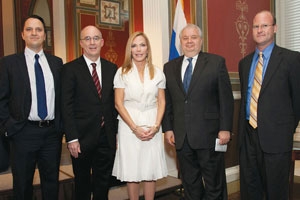 Inspired by her friendship with Russian ambassador Sergey Kislyak, Washington philanthropist Susan Lehrman has endowed a chair in Russian history and culture in AU's College of Arts and Sciences.
Lehrman and Kislyak partnered in 2009 to organize the Washington National Opera Ball at the Russian embassy. The experience sparked her interest in Russian culture and history — something she's eager to foster in CAS students.
"I believe in building lasting connections between Russians and Americans," said Lehrman. "A chair is a long-term and important step towards that goal."
Russian scholar Eric Lohr has been named the inaugural chair.
"With this chair, we are planting the seeds for a world-class center for Russian history and culture, [offering] students an unparalleled cross-culture experience," said CAS dean Peter Starr.