In the Community
Good Neighbors: WCL Students Help Those in Foreclosure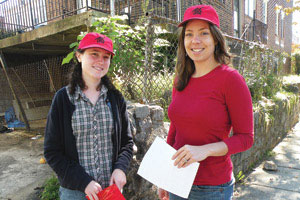 With every rap on a door, Ashly Hinmon hopes to help a Prince George's County homeowner who is in foreclosure. It's a daunting task.
The county that abuts the District of Columbia's eastern border has the highest foreclosure rate in Maryland, with one in every 805 county homeowners facing foreclosure.
Twice a month, Hinmon, a 3L at the Washington College of Law and coleader of the Take Back Your Home (TBYH) project, and 15 other students fan out across the suburban Maryland county to educate residents about their legal rights and warn of scams that promise to halt a foreclosure or modify a loan. Each time, they knock on 80 doors. On a good day the students will connect with half of the homeowners. About one-third of the houses are already abandoned.
"People feel lost, really confused," said Hinmon, a Public Interest/Public  Service Scholar. "A lot of people tried to call banks and couldn't get help. They're glad to know someone cares."
The student volunteers (70 in all) can't dispense legal advice, but they can help connect homeowners with mediation services. The window for mediation is short: 25 to 55 days from the time foreclosure notice is served. "The need for this kind of work looks indefinite right now," said Hinmon.
WCL alumnus Matt Hill, who works with the Public Justice Center, a nonprofit that serves as the organization's sponsor, provides the students with their addresses before each session. TBYH was founded last year by WCL alumnus Bradford Voegli. It's the only organization of its kind in the Washington area and its volunteer ranks are growing—much like the need.