Education
Ann Ferren Teaching Conference: Inspiring, Motivating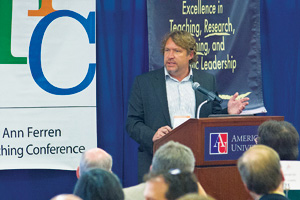 The 23rd annual Ann Ferren Conference on Teaching, Research and Learning drew 467 participants this year, an all-time high. Last year, the conference, sponsored by the Center for Teaching, Research and Learning, had 402 attendees.
Topics ranged from best teaching practices to the use of technology to faculty work groups and research.
American Today writers Adrienne Frank, Charles Spencer, Sarah Stankorb, and Mike Unger attended to gather some best practices.

Teaching Required Classes
"Why do I have to take this?"
For teachers of required courses — those who love their subjects and dedicated years to learning them — few questions are more disheartening, except perhaps the perennial "Is there any way to waive this?"

John Hyman, director of the College Writing Program, explained that students asking these questions arrive with a sometimes stilted view of education. They've been taught how to game standardized tests to pump up scores. They are given stacks of college survival guides as well-intended graduation gifts. The message found therein: "college is a kind of competitive blood sport" and "if you work really hard . . . maybe, just maybe you'll survive."
Said Hyman, "If they occasionally seem a little bit jaundiced, they come by it honestly."
These are among the reasons some students approach required courses with a foot-dragging lack of enthusiasm. Hyman and his co-panelists Michael Keynes (CAS, mathematics) and Chris Tudge (CAS, biology) explained how to entice students into taking required subject matter seriously and daring them to find it interesting. Their advice included:
Talk about the elephant in the room: your course is required. Point at it constantly. Explain regularly, "here's why this class is required. Here is what it means to be educated."

Determine why someone who is never going to take another course in your field should take your class. Design the course to show how your course will be relevant to their future lives, and already is.
Your class is required. Don't assume your students will belly up to your content like thirsty animals lapping at a trough of knowledge. Force information on them. To Tudge, particularly in large required classes, the trick is spritzing out information in tiny, interesting bits. Some will stick, and your students will remember what they learned.

Fostering Enthusiasm
School of Communication professor Chris Palmer led a lively discussion on inspiring students to be enthusiastic and motivated.
Learn students' names. It creates a warm atmosphere and encourages class participation. Remember to use students' names in class.

Meet one-on-one with students early in the semester. Even in large lectures where this is impossible, meet groups of three or four or assign students to meet with a teaching assistant or faculty mentor.
Foster a sense of belonging and respect. Create an inclusive atmosphere where students feel their views are valued.
Show up early for class. This gives you a chance to greet and connect with students.
Write the class plan on the board. Knowing the class's structure will make students participate more freely.
Ask early for student feedback. A month into the semester, ask students to tell you in writing what's working, what's hindering learning, and what they suggest for the rest of the semester. 
Be responsive to student e-mails and calls. Try to respond within 24 hours, and add your home, office, or cell phone number under your name in your response.
Evaluating Creative Work
Evaluating and grading creative content can present difficulties for faculty. Unlike a math test designed to assess whether a student can solve an equation, essays, technical projects, critiques, and artistic creations have no definitive right answer.
School of Communication professors John Malis and Kylos Brannon and College of Arts and Sciences professor Despina Kakoudaki led a session to explore the nuances of grading creative work.

Malis:
Require students to use written statements to put their creative work in context.

Have them defend their choices to their classmates.
Set dates for deliverables.
Brannon:
"In a photography class if a student has never picked up a camera, I might give them a "B" as an incentive to do it again."

Consider occasions when you might let students revise a project after they've turned it in. When the revision is complete, decide whether you will increase the grade.
Kakoudaki:
Uses creative engagement in her class on Alfred Hitchcock films.

In some courses, "the goal is about getting the basic skill." However, "if it is a culminating assignment in which skill, talent, and thoughtfulness [must all be shown], that changes things entirely. For that I want to see a student who has demonstrated the process of learning."

Encouraging All Students to Participate in Discussion

How do you nudge shy students out of their shells while not shoving off enthusiastic students? Before a packed house of 90 professors and PhD students, Fanta Aw, Campus Life, Katherine Farquhar, SPA, and Chris Palmer, SOC, shared tips and tricks for sparking dynamic, inclusive classroom discussions.


Aw:
Be mindful of cultural differences and pick up on nonverbal cues.

"We need to understand silence as a means of participation," she said. "We can't be afraid of those silences." She suggested having students pose a question related to the readings or lecture on Blackboard before class, "so you don't catch quiet students off-guard."

Farquhar:
Build a classroom community that's welcoming, engaged, positive, and supportive.

Be clear about your expectations, and why participation is required.
Palmer:
Use the "think, pair, share" strategy to structure class discussions.
Students ponder a question independently before pairing with a classmate to discuss their observations or opinions. Students then share their views—or their partner's views—with the rest of the class. The exercise enables shy students to "warm up" to larger classroom exchanges, Palmer said.