Research
Peruvian Farmers Reject Genetically Modified Seeds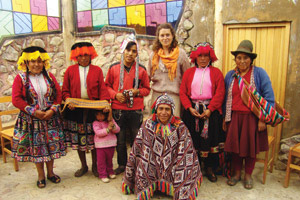 A Finger in the Wind
High in the Andes, rural potato farmers are preoccupied with climate change.
Elders in the community have noticed changes in weather patterns unseen in collective memory. Nearby glaciers — the headwaters of the Amazon — are receding. The usual warm, wet season has included unexpected frosts.

SIS professor T. Garrett Graddy has worked extensively with six indigenous Peruvian potato farming communities at the Parque de la Papa (Potato Park) who are among those experiencing these changes. Graddy, a cultural geographer who studies political ecologies and economies of food and agriculture, researched in situ agricultural biodiversity initiatives at the Potato Park in 2007 and 2008. There she found, on steep farm plots, potato farmers facing down a modern crisis with the trade of their ancestors and a method that models a more intimate way to farm.
On a recent trip back to the Potato Park, Graddy conducted interviews at community gatherings where seventy-somethings continually brought up the facts of climate change.
"There's an understanding that the industrialized world has emitted more than their fair share, and Peru has to bear the brunt. The Andes in general is on the forefront," explains Graddy. While these farmers have spent the past decade learning about climate change, their goal is adaptation. "It's important to know what's causing it, but it's very important to know how to survive it."
Survival, for these farmers, means biodiversity and an active agricultural experiment to repatriate 1,000 different native potato varieties.

An Agricultural Ethic of Care
The patchwork of farming communities that makes up the Parque de la Papa shares and swaps seeds that were distributed to them in two batches of 500 genetic species in 2005 and 2010 by the Centro International de la Papa (CIP or International Potato Center), a Lima-based root and tuber research-for-development institution. The farmers' efforts are supported by a local NGO, Andes, which helps write legal contracts, handle seed patents, and fund some of the farming cooperative's initiatives.
On its surface, it's an example of robust small agriculture and a seed banking system dedicated to biodiversity. But for years, farmers perceived the seed bank system as a thief stealing native seeds from local farmers.
Initially, seeds had been collected from rural land and housed in the gene bank. Access went to farmers who could go to Lima, speak Spanish, understand contracts — and the result was that specialty plant breeders had access and benefited. According to Graddy, now CIP hangs huge portraits of the Potato Park on its office walls. For many people, the new process of repatriation redeemed the seed bank, proving that they do give back to local farmers. "The Potato Park is their quintessential victory and shows they don't just take from small farmers." She adds, "I think this repatriation project has been heroic."
Still, the seed banking system has long favored genetically modified (GM) crops as a marker of development.
"An inordinate amount of funding and support has gone to GM and limited funding to other methods of conservation or food security, and that's what makes this initiative exciting," explains Graddy.
For these farmers, daily life, sustenance, and religious understanding all exist within the matrix of Pachamama — loosely translated from Quechua as Mother Nature. Life comes down to a basic tenant:  or reciprocity. You care for nature so that it cares for you.

The Move to Ban GM
In 2007, the same year that the Peru/U.S. Free Trade Agreement was signed, members of the Potato Park successfully lobbied for a ban on genetically-modified potatoes in their home state of Cusco. Last fall, following the swearing in of new president Ollanta Humala, farmers from Potato Park became part of an unlikely alliance between mountain farmers and exporters of niche specialty gourmet crops to push for a 10-year moratorium on GM foods, seeds, fish, and animals. Among Humala's first acts in office, the ban passed unanimously and sets an international precedent. (In the United States, for example, around 85 percent of corn and about 90 percent of soybean crops are GM.)
Peruvian gourmet growers supported the ban in order to protect their own market for high-priced niche crops (fancy varieties you might find at Whole Foods). Potato Park farmers had more pragmatic reasons for banishing GM crops from their fields.
They say the genetically-modified crops need more: more water, pesticides, fungicides, fertilizers — and what they require is bad for the soil.

Biodiversity offers more than access to plant species with fewer financial costs and more nutritional benefit. One only has to look to the Irish Potato Famine to see one dire consequence of heavy reliance on a single or very closely related plant species. There, over a century and a half ago, blight struck Ireland's largely genetically identical potato crop, wiping out a main food source and resulting in the death of a million people. Today, as many farmers elsewhere adopt monocultural planting with a single GM crop, the same vulnerability persists.
The Potato Park farmers are working to build resilience to the unpredictable impacts of climate change, including the potential for wide-scale crop devastation. "There was concern about these changes and the erratic nature of it, and a knowledge that there would need to be more biodiversity planted to cultivate a resilience," says Graddy.