On Campus
United Way TEAM NFL Holds Empowerment Summit at AU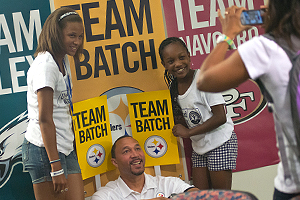 Professional football players who place as much importance in education as they do in end zones joined some of the nation's most promising high school students at the United Way TEAM NFL Youth Empowerment Summit at American University.
The players are part of United Way's TEAM NFL, a group of college-educated, civic-minded NFL players committed to helping United Way recruit 1 million volunteer readers, tutors, and mentors. The 50 students who attended are high achieving boys and girls from some of the nation's lowest-performing high schools.
The setting couldn't have been more perfect.
"I like the fact that we were able to bring all these people together at American University," said Tracey Holmes, director of NFL and strategic partnerships for United Way. "This is the environment we want them to see themselves becoming a part of. To physically bring them here is to show them the possibility."
Nineteen of the 33 players (one representing every team, plus Los Angeles) attended the summit, which began June 19 with a welcome from Brian Gallagher, president and CEO of United Way Worldwide, and Nnamdi Asomugha of the Philadelphia Eagles, national TEAM NFL captain.
After spending the night in Centennial and Anderson halls, the students, players, and United Way staff, partners, and interns participated in breakout sessions, competitions, and dialogues on June 20.
"What education does is it gives you the opportunity to stand at the forks of life and have a choice," said Eric McDonnell, executive vice president of United Way of the Bay Area. "You've got half a million players who say they're the next 'it.' For 450 slots? Somebody's not going to make it. What's plan B?"
Throughout the morning players ducked out to conduct satellite television interviews with 25 stations in markets across the country.
Greg Jennings, a wide receiver for the Green Bay Packers, has a foundation dedicated to education. He sat in the Ward Circle Building auditorium listening to McDonnell and kids share their sometimes emotional accounts of the trials and tribulations they face in overcoming obstacles.
"I have a firm belief that all success starts from education," said Jennings, who graduated from Western Michigan University with a degree in communications. "If we're not going to empower our youth and help them, what does that say about our society as a whole?"
AU landed the summit when a mutual friend of Robert Karch, a professor in the School of Education, Teaching, and Health, and Holmes brought the two parties together.
"When I saw what they were planning and that they wanted to be in Washington, D.C., I thought our campus would be perfect," Karch said. "The bottom line is this is about education and it's about health. It just fit for us."
The summit concluded June 21 with a trip to Capitol Hill, where the players and students took part in a "Big Tweet" on the steps of the Capitol and met with congressmen.
"I was once a student who didn't understand the importance of education," said Stepha'n Quicksey, a senior at Osborn Math, Science and Technology School in Detroit.
The change he underwent — today he's looking at colleges — is exactly the kind of success story United Way and its NFL partners hope the Youth Empowerment Summit will spark in millions of children throughout the country.