Athletics
Pope Is a Prince, On and Off the Track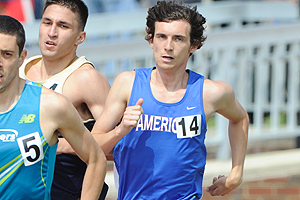 Regardless of when John Pope crosses the finish line, he looks over his shoulder.
"You see it after every race," he said. "Guys cross the line, turn back and wait for the guys coming behind them. Not to see who's at their heels but to cheer them on, to congratulate them, and to show that running is something shared despite being so individual. You see it at community 5ks, high school track meets, and Olympic trials. It's just part of the sport."
Pope has brought more than just speed to American University's cross country and track teams. Each day in practice and at every meet, the rising junior from Carlisle, Pennsylvania, demonstrates to his teammates the true essence of sport.
They — and opponents on the track — have taken notice. Pope has won the 2011-2012 Patriot League Male Sportsmanship Award.
"I'm really honored because of what it shows about how my peers view me," he said. "And I'm grateful because it's something I can show to the people who helped me learn that sportsmanship. But it seems almost par for the course because sportsmanship, community, and respect are qualities built in to the sport which is part of why I love it."
Pope was nominated by fellow AU runners Tom Woermer and Julia Sullivan. Each is a member of the Student-Athlete Advisory Committee, which tapped Pope to compete against athletes from the other Patriot League schools for the award. He was chosen by a conference-wide committee of student-athletes, and now is in contention for the NCAA Sportsmanship Award to be given out in late summer or fall.
"It was very obvious to me and the others that John was the best choice," Woermer said. "He's just one of those kids that's constant. He's constantly doing what he's supposed to be doing and helping whoever he can."
An All-Patriot League Second Team selection for cross country, Pope recorded the third-best mark for AU at the NCAA Mid-Atlantic Regionals with a 46th place finish. He placed ninth at the Patriot League Cross Country Championship to help the men's team to second place.
The nature of the sport dictates that teammates compete against one another, and of course, against the clock. Pope handles both victory and defeat with grace.
"John's only a sophomore but he's very, very good," Woermer said. "There were occasions when he would beat the juniors and seniors on the team, but he never made a point to be braggadocio or show off the fact that he was running so well."
"When he doesn't run well he's the first to congratulate his teammates," Sullivan said. "He never takes away from his teammates by being stuck in his own defeat."
The son of Army parents, Pope bounced from Kansas to Virginia to Texas to Germany while growing up. Sports always were a constant, although success on the field was not.
"Most of the team sports were never really my thing — I'm just not that coordinated of a person," he said, laughing. "I really liked running and swimming. I like the fact that you're on a team and you're working with people, but you're really testing yourself against the clock. You're constantly trying to improve."
Always intrigued by Washington, Pope came to AU to major in international relations and run for Coach Matt Centrowitz.
"Coach Centrowitz is a big personality, so you're always on your toes," he said. "You feel like every practice you're going to get something out of it. It's going to be intense. You always have to bring you're A-game to everything, which gets you so much more ready for competition than I think most other programs."
Pope is spending this summer interning at the Pennsylvania Joint State Government Commission in Harrisburg. He's considering graduate school and thinks his career will focus on international communication.
"I'm very interested in what happens when different cultures collide," he said. "Even if I could do that in a corporate environment, I think it'd be really interesting to see how people work together from across different cultures."
Whoever hires him will have a winner, in all facets of the word, on their team.