On Campus
OCL Staffer Offers Safe Space for Women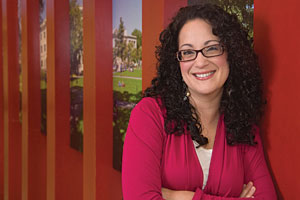 Courtney Brooks was raised to speak her mind.

Brooks grew up poor in Appalachia but with a strong sense of self. "I experienced women's roles differently than other people. My dad is Cherokee and, as is typical of many Native American traditions, women run the show. It's the same in the Appalachian culture. So, I was taught to stand up for myself," said Brooks, a native of Tennessee and Virginia.

"When I left the area, people would say degrading things, asking if I have shoes or mocking the way I talk," she recalled. "It's one thing to see that happen to others, but when it happens to you, a switch goes off."

Now, as director of AU's Women's Resource Center (WRC), Brooks is helping others find their voice.

The WRC, under the Office of Campus Life, provides female students with a safe, supportive, collaborative, and empowering environment. (The center is open to all, but services and programming are aimed at women.) Students can browse the center's collection of women's studies and women's history titles; get referrals for help with eating disorders or relationship violence; or just study and chat in the WRC lounge.

The center also partners with other campus groups like the GLBTA Resource Center, Kay Spiritual Life Center, Women and Politics Institute, and Student Health Center to develop programming aimed at educating and empowering young women.

"Having a center like this on campus speaks to efforts that have been made for many years—since the 1800s—to provide women with a safe space," said Brooks, who's pursuing a PhD in sociology from the University of Kentucky. "Having a dedicated space like this isn't questioned anymore, but it doesn't mean the issues—sexism and racism—have changed. They've just evolved."

Brooks said she wants to give students the skills, knowledge, and confidence to "walk this world as a woman."

"It's a real honor to watch someone go through that transformation," she said.