In the Community
'Tis the Season for Giving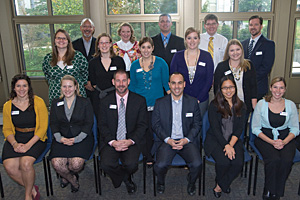 On the heels of the successful winter coat drive, which garnered more than 100 sweaters, scarves, and coats for A Wider Circle, Staff Council has several other service projects in the works.

"AU is a good citizen of D.C. We're a generous community, so it's easy to get people to help out," said Adell Crowe, coordinator of media and communications, Student Activities, and chair of the council's service committee.

Staff can lend a hand in several ways:

Staff Council's holiday drive to benefit Martha's Table, a nonprofit that provides meals and educational programming for kids and homeless throughout Washington, is wrapping up. Staff have already donated $600—three times as much money as last year—and council reps will collect last-minute donations at the AU holiday party, December 15, 1 to 3 p.m., in Bender Arena. (Partygoers are also encouraged to bring canned goods for D.C. Central Kitchen and new, unwrapped toys for the Marine Corps Toys for Tots.)
Organized by AU's Center for Community Engagement and Service, the day of service has traditionally been a student-focused event—something Staff Council hopes to change. "This is a university-wide event, the more the merrier," said Crowe. "Our staff survey indicated people want time off from work to volunteer, and this is a great way to do it." The event, January 21, from 8:30 a.m. to 3 p.m., includes breakfast and lunch. Volunteers can lend a hand across six sectors: HIV/AIDS, homelessness, hunger, seniors, women's health, and youth.
Last spring, the council partnered with AU sororities Alpha Chi Omega and Chi Omega to collect 100 dresses, shoes, and accessories for D.C.-based Once Upon a Prom. The sparkly, satin frocks were distributed to Washington high school students at Eastern Market. This year, the council, with the help of WAMU news director Jim Asendio, will collect dresses from late March to early April.
The council's popular media swap, during which staff can trade an old novel or DVD for something new (to them), returns in February. Swaps are also slated for spring and summer. Unwanted movies, music, and books are boxed up and donated to Better World Books, which sells them online to fund literacy programs in third world countries. AU donates about five boxes of media per swap, Crowe said.
Learn more about Staff Council's service projects at www.american.edu/staffcouncil. 
Staff Council front row from left: Kat Tortorici, Laura Larrimore, Scott Jones, Matteo Becchi, Josie  Armantrout, Celina Ryan; second row: Nancy Pearson, Emily Curley, Sarah Goldberg, Nicole Schoeb, Rene Kauder; back row: Jim Asendio, Adell Crowe, Gerick Allen, Mark Winek, David Fletcher

Not pictured: Shea Mulcahy, Curtis Burrill, Dori O'Donnell, Patricia Williams