International
Dalai Lama Explores Concept of Soul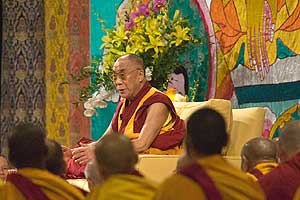 The Dalai Lama urged respect for all faiths and stressed the role of education in creating tolerance as his visit to Washington, D.C., culminated on Oct. 10 with a teaching on Buddhism at American University.
Tibetans in traditional garb filed into the 6,000-seat arena to mingle with AU students, Western Buddhists, and hundreds of curious Washingtonians who came to the see the spiritual leader and head of the Tibetan government-in-exile.
"Every time I see him, it's like seeing him for the first time," said Tsering Lamo, of Vienna, Va., of the self-described "simple monk" who has won the Nobel Peace Prize and U.S. Congressional Gold Medal. "He's inspirational. He's a role model. Because of him, many Tibetans go to non-violence."
Lamo, who is Tibetan, came to the AU teaching with a friend from China, Vicki Wang. All political differences aside, "there is no border in Buddhism. It is such an honor to see him," said Wang, spinning a Buddhist prayer wheel.
The 14th Dalai Lama, Tenzin Gyatso, sat cross-legged on a large gold armchair under a towering thangka, or painted religious banner, that stretched from the ceiling of Bender Arena to the floor of the dais. Around him sat dozens of monks in maroon and saffron robes. It was the Dalai Lama's second time at AU, where he also gave a teaching in 1998.
The teaching, "The Heart of Change: Finding Wisdom in the Modern World," began with chanting in Sanskrit, Chinese, Vietnamese, and Tibetan.
"To build religious harmony, we must know different traditions and their concepts, and through that, we can develop respect, which is the foundation for harmony," said the Dalai Lama, who spoke mainly in English but sometimes with the help of a Tibetan translator.
He explored the concept of a soul, which in the Buddhist tradition, cannot be viewed separately from the body and mind, but also cannot be said to have a beginning or an end. The talk revolved around what he called the three fundamental questions: What is the "I"? Does it have a beginning? Does it have an end?
"This, my body, now is over 70 years old," he said, but it is not the same body he had as a child. Just as the body has changed, so has the mind. Even on the atomic level, the physical self is in constant flux.
The self exists due to the body and mind, yet "we could trace material continuity of our body to conception, and then back to the big bang. We can find material causes of our body even at the beginning of the universe," he said.
Buddhism calls on its followers to recognize the self as impermanent as "an antidote to reduce extreme self-centeredness." Other religions have different beliefs, but aim towards a similar effect by different . . . In each case, the philosophical framework serves to move the faithful away from self-absorption.
Yet, he said, there are contradictions between religions and within religions. Buddhism has multiple sects, and the world's major religions have different notions of an afterlife, soul and creator. This serves the purpose of addressing the "different mental dispositions" of the world's people. "There are six billion human beings. Just one religion is simply not sufficient," he said.
Becoming educated about other religions helps to develop tolerance without undermining faith, because understanding and belief are different, he said. "All people in this room should know (about other religions), so we can develop respect for all traditions. But faith is a different thing. I'm Buddhist, my faith is Buddhist," he said, yet that doesn't keep him from respecting other traditions or seeing similarities.
For most people, it is best to keep to the faith of their birth, he said, because they have a deeper understanding of it. A few people may be convinced that another religion suits them better and may be moved to practice it seriously, but for most, "it's very important to keep one's own tradition."
As he spoke, the arena was bright with hundreds of strands of prayer flags created by children at the Katzen Arts Center or in projects at D.C. public schools with teachers mobilized by AU's School of Education, Teaching and Health.
The morning's teaching was followed by a symposium with leading Buddhist thinkers.
Dolma Tsering of Derwood, Md., who grew up in Nepal as the child of Tibetan refugees, saw the day as a time for people from many backgrounds to learn from the Dalai Lama's example.
"I think it's a good opportunity for not just Tibetans, but for Washington to learn about peace."