In Remembrance
Peach Remembered as Scholar, Feminist, Friend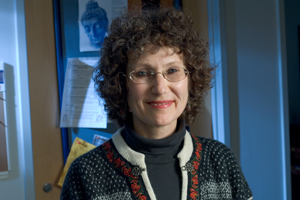 Tiny in stature but enormous in spirit, Lucinda Joy Peach was remembered for her compassion, curiosity, and courage during a memorial service, Aug. 27, at the Kay Spiritual Life Center.
A professor in the Department of Philosophy and Religion, Peach died July 25 of complications following treatment for a recurrence of breast cancer. She was 52.
Julie Mertus, codirector of the Ethics, Peace, and Global Affairs program, recalled her friend and colleague as someone "skilled at living in the moment."
Hers was "a sharp mind that could make connections across fields," yet she was also incredibly patient, compassionate, and giving, said Mertus. "As soon as I met her, I knew this was someone I had a lot to learn from."
President Neil Kerwin praised Peach's intellectual curiosity and commitment to social justice, which shone a light into "the human experience and condition that are too easily forgotten."
An internationally respected scholar in the areas of gender and violence, the ethics of war, and women's human rights, Peach—whose recent work focused on the trafficking of sex workers—won the prestigious Rockefeller and Fulbright scholarships in a single year. Peach held both a law degree from New York University and a doctorate in ethics from Indiana University.
Peach was the first woman tenured into the Department of Philosophy and Religion, within the College of Arts and Science, paving the way for others, according to colleague Andrea Tschemplik. "What an example she was! Her only concern was to make everything work, for the benefit of the department and the students," recalled Tschemplik.
"The American University community is grateful for her time with us," added Kerwin. "She left too soon, but her mark did not."
Colleagues, friends, and former students recalled Peach's mischievous smile, her welcoming seriousness, her worldliness, and the way in which she celebrated others' accomplishments, above her own.
"Everything she did was life-affirming," recalled University Chaplain Joe Eldridge.
Peach was also a deeply spiritual woman. She began studying Buddhism in college in the '70s, exploring the Theravada, Zen, and Tibetan traditions. In 2004, she joined the Insight Meditation Community of Washington.
Peach is survived by her parents, Joy and Henry Peach; her brother, John Peach; and her sister, Rebecca Cooke, who attended the service.