Academics
Class Crafts Publicity Campaign for Immigration Nonprofit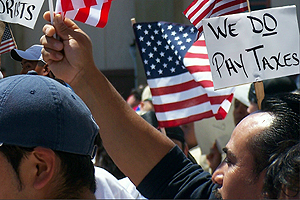 Just Neighbors is a small nonprofit with little money for publicity. Maria Piessis and classmates were looking for real-world experience in public relations. An AU class brought them together and led to the kind of publicity that, generally, only money can buy.

A semester-long project for a public relations portfolio class taught by Gemma Puglisi, School of Communications, focused on developing a public relations strategy for the Northern Virginia nonprofit, which provides legal services to low-income immigrants and refugees.

Its four staff attorneys are busy with clients. Its only other staff member is executive director Rob Rutland-Brown, who was excited to have the services of skilled students on the verge of entering the work world, all overseen by a professor with some 25 years of public relations, news, and entertainment experience.

The class made a database of media contacts, a promotional video, and a social networking site. They collected toys for donations, raised money at a fundraiser, and planned an online auction through eBay.

They even got Rutland-Brown on television. As they reached out to media to let reporters and editors know more about the nonprofit, one of their contacts, at WUSA (Channel 9), led to an interview on immigration issues on the local news.

"This is really fantastic. It's breaking new ground for us. It's things we wouldn't or couldn't have done without you," said Rutland-Brown.

For the students, it was a valuable opportunity to practice what they've been studying.

"One of the things that's great about this class is it takes your four years of academic experience and formalizes it into professional training," says Sabrina Sussman, SOC '09, of Rochester, NY.

"It was working with an actual client, with deadlines and actual media," says Maria Piessis, SOC '09, of Aspen, Co.

Piessis got even more from the class: a job in her field. She'll soon be starting as a marketing and events manager for La Tosca Restaurant, which was involved in a fundraiser for Just Neighbors.

As for Just Neighbors, the nonprofit founded in 1996 is now equipped with the kind of public relations material they never had the time or funds to create themselves. "I wish we had you all year," says Rutland-Brown.