International
Ambassadors Visit With Center for Congressional and Presidential Studies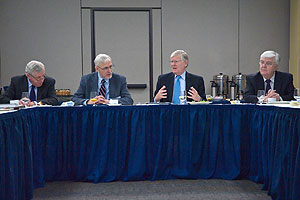 Three ambassadors were among the guests at the Center for Congressional and Presidential Studies' first roundtable lunch on Jan. 19.
Ambassadors Pierre Vimont from France, Hjalmar Hannesson of Iceland, and Shankar Sharma from Nepal visited with CCPS director James Thurber and School of Public Affairs dean William LeoGrande. 
Among the topics discussed were the U.S. Congress and U.S. foreign policy toward their countries.