Journalism
Speechwriting as an Art, and a Job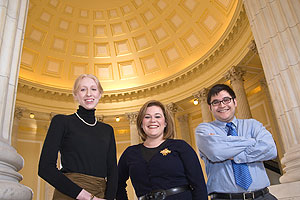 Five days after Barack Obama delivered his first State of the Union, both the address and one of its main subjects — jobs — took center stage in Bob Lehrman and Eric Schnure's American University speechwriting class.
Before a panel of five former students now working in the political world discussed the raw realities of their jobs and how they landed them, current students shared their thoughts on Obama's speech.
"I thought he did a good job of articulating his initiatives," said senior Daniel Lewkow. "It didn't come across as entirely rhetorical."
Lehrman, a speechwriter for more than 30 years for politicians, CEOs, and celebrities, once penned speeches for Vice President Al Gore. His new book, The Political Speechwriter's Companion: A Guide for Writers and Speakers, has been widely praised, and he spent the week following Obama's speech being interviewed by media, including ABC.com, the Wall Street Journal, and even an Australian radio station.
His words carry weight. But on this night, he spent little time analyzing Obama's speech, focusing instead on how his students can succeed in the future.
"We look at this class like a pipeline," he said. "We want you to get a job when you leave. Washington is not who you know, it's who you get to know."
Students sat rapt, not one mouthing "Not true, not true."
In recent years, panelists Sarah Dohl '07, Genevieve Frye '07, Whitney Nichols '07, Philip Zakahi '10, and Desson Thomson '80 sat among them. Now, the AU alums are living the dream, working in congressional offices, at the Republican National Committee, for a polling firm, and for an ambassador.
"When I left AU I went to the private sector and did consulting for a year," said Dohl, a speechwriter for Rep. Lloyd Doggett, D-Texas. "I applied to hundreds of Hill jobs and couldn't even get a call back."
But her persistence paid off. When she did finally land an interview with Sen. Maria Cantwell's office, she used a speech she wrote in Lehrman's class to show she had the chops for the job.
Whitney Nichols's career unfolded in an opposite manner. Soon after graduating from AU, she found herself working in the White House as deputy associate director for advanced press. But when George W. Bush left office, Nichols too was out of a job.
"You do get thoughts, have I peaked?" she said. But like Dohl, through a dogged search and by tapping her network of connections amassed since her days as an undergraduate intern, Nichols was able to get a job as the office administrator with the Republican National Committee Counsel's Office.
Frye worked for the conservative Heritage Foundation before signing on to write speeches and do press for Rep. Jeff Flake, R-Ariz.
"It's a challenge," she said. "There are certainly days when you long to be back in college, but it's a great job."
All the panelists, who fielded numerous questions from the students, dished out tips like being willing to do anything as an intern (fetching coffee for higher-ups, though seemingly an intern cliché, apparently still is encouraged), proofreading, then re-proofreading your résumé and cover letter, and ensuring that your online footprint isn't inappropriate.
"These [panelists] are people close to their own age," Lehrman said. "If you bring in somebody that's 50 years old and is well known, they like the celebrity aspect of it, but it's not as relevant to them as someone who was sitting in the same seat two years ago."
There was one notable exception. For 21 years Thomson wrote for the Washington Post, where, among other things, he reviewed films. After taking a buyout, he audited the speechwriting course with an eye toward shifting careers.
After a disheartening job search on Capitol Hill in which he was routinely rejected for being overqualified, the 52-year-old Thomson recently landed a job as speechwriter for the U.S. ambassador to the United Kingdom, Louis Susman.
"I can speak Anglo and American," said the British-born Thomson. "I took this course and it was great fun. I still can't believe I have this job."
Lehrman often thinks the same thing. After five years teaching at AU and a lifetime spent writing speeches for the rich, famous, and rich and famous, he still revels in the power of perfectly crafted words.
"This year I have noticed that because the job market is worse, students seem much more tense about whether there are jobs out there," he said. "I know there are. I can be reassuring to a degree, because I know they are so nervous, that this class is absolutely relevant. I know they are really talented, hard working students who will succeed."