Government & Politics
Gordon Adams Discusses His New Book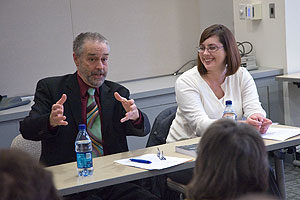 In government, budgets are policy, according to Gordon Adams, which is just one reason they're so vitally important.
The School of International Service professor spoke to students and colleagues March 1 about his new book, Buying National Security: How America Plans and Pays for Its Global Role and Safety at Home.
"This is a textbook with a purpose," said Adams, who from 1993 to 1997 was associate director for national security and international affairs in the Office of Management and Budget in the White House. "If you really want to follow what is happening with the implementation of policy in government, examine the budget."
Adams cowrote the book with MIT professor Cindy Williams. It has garnered praise from experts in the field.
"Gordon Adams and Cindy Williams write with deep knowledge and authority about the complex and difficult problems of funding our foreign policy and national security programs and objectives," said Tom Pickering, former under secretary of state and former ambassador to the United Nations. "Clear and concise, this book is a treasure trove of information on a vitally important and almost always difficult and confusing subject."