Social Sciences
Geography of a Gerontologist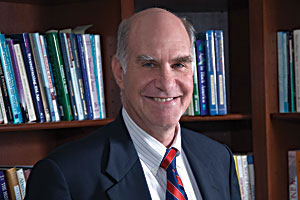 American University's provost Scott Bass, came of age in Detroit in the 1960s, where the music was Motown and the issue was civil rights for disenfranchised groups.

He earned his bachelor's, master's, and PhD degrees in psychology and education at the University of Michigan, before heading to the American Institutes for Research in Washington, D.C., to work on solutions to racial tensions that plagued schools in the post-segregation era.

The community psychologist, who was eager to tackle deeply rooted problems in complex organizations, notes how a label alone­—students in the schools where he worked were labelled problems—can invite some problem behaviors.

In Virginia, Bass established himself as a talented grant writer, a skill that led him to Boston—another city much in the news for racial tensions in its schools. In 1979, while he worked on a range of human services issues, Bass received a call from Murray Frank, then dean of the College of Community Service at UMass Boston.

The question on the nation's mind—how can you put able older people to work assisting those who may be frail?—was a question the Commonwealth of Massachusetts was well suited to tackle, and which UMass Boston was uniquely situated to implement. The three campuses of the University of Massachusetts wanted to compete for Title IV monies of the Older American's Act to train America's aging population, he said. Would Bass join them to write the grant proposal? 

Bass accepted Frank's offer and spent 1979-1980 as his special assistant working to secure the funding to establish a program that would train people over 60 to go to work on both service and policy issues. That successful grant and program eventually led to Bass being named director of the Gerontology Program, a national model at Boston.

Bass remained for nearly two decades at UMass Boston, establishing both the Gerontology Institute and the school's PhD program in gerontology, founding the Journal of Aging and Social Policy, and earning a reputation as a leading scholar in the field of gerontology.

Sitting in his AU office in Leonard Hall, Bass describes how timing, geography, and unwavering focus on a goal, enabled him and colleagues to put a small school at the leading edge of a key social problem. A problem that is even more demanding today than 30 years ago.

The flagship campus in Amherst, and the relatively new medical school in Worcester were important parts of the UMass program, but the urban campus in downtown Boston offered, "a really unique environment," Bass explains.

"Massachusetts," Bass says, "was innovative in the field of gerontology. All of the leading universities had programs or activities in the area of aging.

"There was," he explains, "a strong infrastructure in the state, and it had the best practice in the nation for developing home care corporations that provided support to keep elders in their homes. We had community action programs that provided assistance to low income elders, and the state was the first to create a cabinet level office on aging."

By geographic coincidence, the Boston campus was a block from one of the home care corporations. Nearby were the executive offices for elder affairs. Around the corner was the Massachusetts Association of Older Americans, where Boston's charismatic elder advocate and labor organizer Frank Manning could be found. The State House was across Boston Commons, where, as the UMass Boston programs developed, students in the Gerontology Program attended classes on the legislative process.

Thus, the stage was set for Bass to create one of the first and most highly respected gerontology programs in the nation.

This year UMass-Boston celebrated the anniversaries of those programs: The certificate program turned 30. The Gerontology Institute celebrated 25 vibrant years, and the PhD program and journal Bass founded both turned 20.

Last April, more than 350 people came back to UMass Boston to celebrate those pioneering programs and Bass was invited to give a keynote address.

It was a good time to look back.

Leafing through the event program, Bass exudes delight and pride as he points to photo after photo of participants and says: "Lillian became secretary of elder affairs. Anne Hargreaves came to us with a 1944 nursing diploma from Boston City Hospital School of nursing. She went to Harvard Medical School and was one of my students. Frank Ollivier was in administration," he says, shaking his head in admiration for their accomplishments. Some who returned to celebrate, he notes, were nearly 100 years old. "They were vibrant, eager students 30 years ago, and are still doing OK." 

---
Reflecting on the rise of a movement, which as the huge baby boom generation begins to retire, may be more important for our nation's productivity than ever—Bass answers some questions on how his earlier institution building and work aiding elders improve their skills impacts his work at AU.

Q. You began your career empowering youth, then worked to empower the aging population. Did you experience a disconnect in doing that?

A. Actually, there are a lot of similarities. My interest was in underrepresented groups, groups that are devalued by the larger society. The change came out of my academic training, which—if you look at the handicap movement of the 1960s and 1970s—was a strong self-help movement. In the schools some of the young people we worked with were labeled "problems," a label that itself produced some of the behaviors.

There was also explicit undervaluing of people 60 to 65. Pulitzer Prize–winner Robert Butler coined the term productive aging. The issues in Boston were the same issues we saw nationwide.

There were many smart people who had not had the opportunity to go to college when they were younger, but were very able people with a lot to give. They were delighted to have the opportunity to come back to higher education to learn how to do that.
 
Q. So, how are we doing in 2010 as our population ages?

A. Twenty percent of our population will be 65 and older by 2020, and we've made little progress in the 30 years I've worked on the issue.

Look for instance at Japan. I was a Fulbright scholar in Japan when they saw they had an aging population. At that time Japan had the second largest economy in the world and their population was aging faster than was the U.S. population because their immediate post–World War II birth rate was more intense than ours. But, we are following suit, just on a longer timeline.

Japan developed an aging policy out of the labor ministry—economics, rather than out of human services, as we did. They created initiatives and structures that provide economic roles for older people after they retire.

Here, that discussion is very limited. The Boston experiment—providing education opportunities and roles for older people—barely exists in the United States, but the model is there.

Q. UMass-Boston's unique location made it an ideal location in the 1970s for a ground breaking gerontology program. AU also has unique geographic advantages in its Washington, D.C., location. Has that led you to consider introducing a gerontology program here?

A. No, one of the things you have to be careful about is not to inflict on the world your particular field of interest. A great academic program has to be organic—come from the institution, from the faculty, from their interests.

However, AU is moving strongly in areas related to public health, which would include aging. President Kerwin and I have met with the National Institute on Aging and with the AARP where one of our alumni, Lee Hammond, is president. We spoke about ways we could collaborate to provide some policy training to the AARP leadership. Nothing may come of it, but we've had conversations.

Q. At AU you are emphasizing a need to build our research capacity. Why is that?

A. When you look at the resources in any institution, there are strengths and weaknesses. If you are weak in the arts, you talk about the arts. If we had weaker teaching, we'd preach about teaching. Here we can be better in the area of research. We have the talent, that's not the question. It's a leadership question and that has to be done at the highest level.

In the tier we're in, we need to provide the organization, structure, and those expectations. Whatever their field, [research] has to be on the frontier of that field.

You have to build mechanisms that allow people to achieve in what they do best, and reward and nurture them.

It's our job to support that creative life and provide resources for faculty so they have the time, infrastructure, and library to move ahead in their fields.
 
Q. What does the new 2010–2011 faculty cohort look like?

A. We just hired 32, in January it will be 33, new faculty and we have about 40 positions in place for next year.

These are world class scholars and teachers who are coming here at all ranks—assistant professor, associate professor, and full professors—to help build and lead this institution.

I think there is nothing more important than who comes here to create knowledge and teach the next generation. That's who we are and its how we attract undergraduates, law students, PhD students, master's students. They know they're going to be taught by the very best.