Government & Politics
America's First Ladies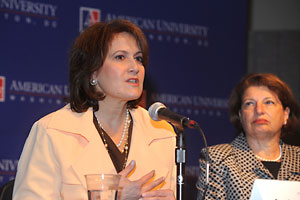 From Martha to Michelle, America always has been fascinated by its first ladies.

"The Legacies of America's First Ladies" examined both the powerful job and the women who, though unelected and unpaid, devoted themselves to it. The March 1 conference, sponsored by American University's School of Public Affairs, featured a lively mix of historians, academics, and veterans of the White House's East Wing. 

"It's a topic near and dear to my heart," said conference chair Anita McBride, SPA executive in residence and former chief of staff to Laura Bush. "I hope by the end of the day it is to you too."

After four illuminating and insightful panels sprinkled with delicious fly-on-a-wall stories, most left AU's Katzen Arts Center with newfound appreciation for the pressures and intricacies of the position.

"I am pleased to send my warmest greetings to all those attending the 'Legacies of America's First Ladies Conference,'" wrote Michelle Obama in a letter read by McBride. "It is my honor to serve our nation as first lady, and have the opportunity to touch so many lives. Throughout the course of history, the accomplished women who have come before me have helped to shape our national character and strengthen our country."

The complex roles played by presidential wives — from that of policy advisor to social trend setter to mother to spouse — often clash, and handling them with grace takes smarts and cunning skill.
"For 200 years America has been electing presidents and coming to see first ladies," said historian Richard Norton Smith, moderator of the first panel, "First Ladies through the Sweep of History." "Some first ladies are recalled as gracious hostesses, others have used the platform for social or political causes. Make no mistake — being first lady has never been a bed of roses. Martha Washington compared her life to that of a state prisoner."

Jennifer Lawless, director of AU's Women and Politics Institute, led the second discussion, "First Ladies in the Carter, Reagan, and George H.W. Bush Administrations."

"Barbara Bush was so comfortable in her own skin," said Jean Becker, her former deputy press secretary. "[She] was a woman of strong opinions, but she felt strongly that her opinions were not supposed to be public because she was not an elected official."

Despite occasionally rough treatment from the press and the public, Nancy Reagan always acted in her husband's best interests, said Gahl Hodges Burt, former White House social secretary.

"Ronald Reagan would not be president if it were not for Nancy Reagan," Burt recalled former Reagan deputy chief of staff Michael Deaver telling her before she met the first lady. "You should know that now and you should never forget it if you take this job."

Mrs. Reagan played a major role in creating an environment in which a friendship between her husband and Soviet premier Mikhail Gorbachev could blossom, Burt said. Similarly, Rosalynn Carter was a key advisor when her husband debated brokering peace between Egypt and Israel.

"If you don't try, we'll never know," Mrs. Carter's director of projects, Kathryn Cade, said the first lady told President Carter.

McBride, Susan Sher, and Melanne Verveer got to know Laura Bush, Obama, and Hillary Clinton as real women, not just as public figures. The former chiefs of staff sat on the third panel, moderated by former Rep. Connie Morella, ambassador in residence at the Women and Politics Institute.

Clinton once threw on "crummy clothes" and a baseball cap so she could go for a walk without being bothered. It worked — kind of. When someone approached her and told her she resembled Hillary Clinton, "she said, 'I've been told that' and kept walking,'" Verveer said.

Obama misses shopping at her favorite Chicago Target.

"It is an unusual way to live," Sher said.

A final panel, moderated by SOC professor Jane Hall, examined how the media covers the first lady.

Filling perhaps the highest-profile governmental position not mentioned in the Constitution, the first lady provides political cover for her husband, absorbs barbs from the press, and puts her own opinions on the back burner.

It's among the toughest jobs in the world, a sentiment captured perfectly in a mock help-wanted ad written by John Heubusch, president of the Ronald Reagan Presidential Foundation. McBride read it to open the conference, which was cosponsored by the White House Historical Association, Presidential Libraries, and AU's Library.

"Most powerful nation on earth seeks First Lady. No previous experience necessary. Willingness to relocate to Washington, D.C., a must. Work from home opportunity. Hours:  6:00a.m. – midnight, M-F; weekends included. Employer seeks the impossible. 
Demonstrated perfection as a human being - required. Willingness to undergo scrutiny as the most famous woman on the planet 24/7 in all areas from fashion to positions on peace in the Middle East. Superhuman multitasking a must. Background in planning of State Dinners, hosting of international summits on foreign soil, standing-in for weekly national radio addresses, defense of spouse's public positions on over 1,000 issues, and flawless media performances before mobs of cynical reporters preferred. 
Salary: zero and must pay all expenses. Not negotiable. Benefits include travel to exotic, war torn and disease ridden destinations, intense scrutiny of family, and round the clock security by men and women in dark suits and sunglasses living at your home for the rest of your life. 
Minimum four-year commitment. Apply in person at White House, 1600 Pennsylvania Avenue, NW, Washington D.C. or call 202-456-1414 for more details.  The United States is an Equal Opportunity Employer."