Alumni
Work Your Passion: Washington Semester Alumna Returns to School that Sparked Political Passions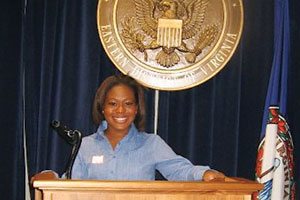 Jheanelle Wilkins came to AU's Washington Semester in 2008 with a passion for politics. She left a wonk.
A sociology major at the University of Delaware, Wilkins developed an interest in politics her junior year. She decided Washington Semester—the country's oldest and largest experiential learning program—"would be the perfect entrée into the political world."
"The best way to know if you're interested in something is to immerse yourself in it. Washington Semester helped me see how the policy process works and how I can have a role in that process," recalled Wilkins, 22. "That semester in D.C. helped me to realize my passion."
For 16 intense, inspiring weeks, Washington was Wilkins's laboratory for learning. A student in Professor Diane Lowenthal's American Government and Politics seminar, the McNair Scholar toured the Supreme Court and the U.S. Capitol, chatting with the policy makers, legislators, and lobbyists who roam the halls. She also interned at the Leadership Conference on Civil and Human Rights, making such a splash as a writer, organizer, and activist that the organization hired her upon graduation.
"I was going to hearings on the Hill, attending rallies, doing research. I felt like I was making a difference every day," she said. "As soon as I left D.C., I knew I needed to come back."
After graduating from the University of Delaware in May 2009, Wilkins was back on the Hill, interning with Senator Tom Carper (D-Del.) before returning to the Leadership Conference. As intern coordinator, a position she's held for 18 months, Wilkins recruits students (she eagerly anticipates her first Washington Semester intern), organizes events, and drafts calls to action around immigration and education issues.

Her D.C. homecoming also marked a return to AU, where she enrolled in the School of Public Affairs and anticipates a May graduation with a master's in public administration.
"My coursework complements my job so nicely—and I practice everything I learn on my interns," she said with a warm laugh. 
Wilkins plans to stay in Washington—the city that continues to fuel her intellectual curiosity—after graduation and eventually hopes to work in education reform.

"I want to be someone who goes into a failing school and turns it into an exemplary school. And then I want to roll out that model across the country," she said. "I know I can make a difference."