Business
'Kogod Now' Launch Event Focuses on Sudan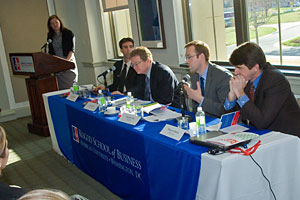 The inaugural issue of Kogod Now, American University's business school's new magazine, focuses on peace through commerce.
With that as the backdrop, the school celebrated the launch of the venture with a March 29 breakfast event that explored ways businesses can navigate the changing landscape of Sudan.
A panel of experts from the private sector, government, and not-for-profit world discussed the possible economic impacts of impending autonomy for South Sudan. Following years of conflict, South Sudan is, according to the terms of an agreement with the Sudanese government in Khartoum, scheduled to become an independent country in July.
"My first trip to southern Sudan was in '88 or '89," said Thomas Callahan, vice president of government affairs for the PAE Corporation, which offers stabilization and disaster relief services, as well as infrastructure and capacity building in more than 65 countries. "We flew in on a C-130 transport plane carrying medicine. The pilot did a very tight corkscrew to avoid [the possibility of] a surface-to-air missile. When you fly into Juba now, you don't have to do that. So that's progress."
But with a relatively weak central government, years of war ingrained into society, and little infrastructure, doing business in South Sudan has many drawbacks. The country does, however, have natural resources—in particular, oil—that undoubtedly will attract investment.
"For companies operating there, the issue is mitigating risk and managing risk," said Doug Brooks, president of the International Stability Operations Association, a trade organization that promotes high operational and ethical standards of firms active in the peace and stability operations industry. "They have to be a special kind of company."
One that's willing to risk coming to a country where 99 percent of the land is held customarily, said Timothy Fella of USAID.
"To reduce the risk of creating more conflict there definitely is a role for the government and investors to develop and resolve claims to the land," he said.
With natural resource extraction expected to be the main focus of business development, whoever can efficiently transport materials through the vast swamp region of the Sudd will have a leg up, Callahan said.
"You need to get oil and gas extraction equipment into remote areas," he said. "South Sudan has not been largely explored. Anything in that area will be a potential good investment."
Companies that successfully pull oil and natural gas from the ground may then spark infrastructure development, Fella said.
"In a natural resource economy, extraction can play a role for the people," he said. "They key is good governance."
Many Kogod professors are interested in this confluence of the business, political, and development worlds, said Kogod professor Jennifer Oetzel, who moderated the discussion.
"One of the goals is to bring together our faculty and students with the wider community studying these issues," said Oetzel, who added that future breakfast events will delve into other topics. "That way we all benefit."