On Campus
Washington Semester Icon Retiring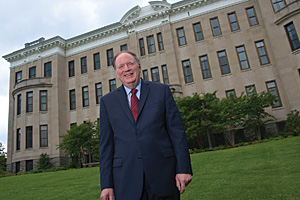 Dean David Brown, who is retiring after 40 years at the Washington Semester Program, actually started his association with American University 50 years ago when his father drove him to visit the campus in November 1961.
AU's School of International Service was perfect for a kid from suburban New Jersey whose interest in foreign affairs started during junior high school collecting stamps from all over the world. By the time he came to AU, the student body president from Caldwell, New Jersey — birthplace of Grover Cleveland — was enamored of all things Washington, a place neither he nor his father had ever been.
"Sixty-six of us got our BAs in 1966, which is a far cry from the number who [graduate from SIS now]," Brown said.
While a student at AU his interest in Latin American politics took him to Colombia, where he spent two months in Bogata and traveled around the country with a Peace Corps volunteer. But classes in what would later become the School of Public Affairs gave him the connection that brought him back years later as a faculty member and then administrator.
A shot-in-the-dark letter to a former political science professor — one of 90 inquiries he sent after getting his PhD —led Brown to an interview and eventual job offer at AU.

Ramping up the Program
Brown leaves behind a successful program that holds fond memories for a host of Washington Semester alumni in the professions, politics, and academia. His openness and affability, his informal style and approachability, were all noted in pages of tributes from former students and current member school directors at a recent organizational meeting.
Brown has also earned the loyalty and respect of his staff. As Associate Dean Christian Maisch, Brown's longtime colleague, noted, "Teaching in this program and working with Dean Brown has been not just a great job. It has been a great joy."
The program has grown significantly since Brown joined AU's faculty after earning his PhD in political science — he had switched from international relations by then — from Rutgers University. In those days, the Washington Semester was an exclusive program run by an aristocratic Bostonian who wanted to keep the club small. But just a couple years after joining the School of Government and Public Administration, as the School of Public Affairs was then known, Brown was offered a chance to run the program he taught in.
He said yes — but he wanted to ramp it up. Soon the Washington Semester would outgrow its home at SPA as Brown expanded its offerings.
"Under Dean Brown's tenure, the Washington Semester Program grew from a small program into one of the nation's largest academic experiential learning programs of its kind," said Provost Scott Bass. "When he began in fall 1973, the program had slightly over 100 college and university affiliations and 151 students. Currently, the Washington Semester Program has inter-institutional affiliations with over 235 national and international colleges and universities. In fall 2009, it enrolled over 500 students in the Washington Semester Program and in the Washington Mentorship, Washington Internships for Native Students, and Graduate Gateway Programs, all programs initiated under Dean Brown's leadership."
Noting Brown's help in designing the Tenley campus, Bass also pointed out his work in 1982 in developing AU's study abroad program.
"He subsequently took the Washington Semester model of seminars with decision makers and student internships, and created the World Capitals Program at the university," Bass said. "This program generated 14 unique semester study programs on five continents beyond North America and, for his work, AU Abroad stands as its legacy."

Facing Challenges
Innovations such as recruiting international students have strengthened the program in a tough economy. And these days everyone faces more competition from other Washington and study abroad programs.
The program has faced challenges before, perhaps most notably in December 1994. That's when a fire destroyed the Dunblane building on the Tenley campus, home of many of the program's offices and classrooms. The building was unoccupied at the time and there were no injuries.
"That was tragic," Brown said of the fire. "The whole office was gone, everything. My library, all my international mementos, my PhD dissertation went up in flames."
Initially, faulty wiring was blamed for the fire. But investigators soon determined that the cause was arson, although no one was ever charged.
Dunblane was later rebuilt.

The Next Stage
Although he is retiring as dean, Brown will stay on part time next year at the request of his successor, Donna Fish, dean of Washington Professional Development. After a month off in June during which he and Janet, his wife of 42 years, will travel to Sedona, Arizona, he'll once again make the commute from his home in Olney, Maryland, to the Tenley campus.

Fish is delighted he agreed to continue working in a new role.
"I had known of Dave's work and reputation as the creative genius behind the Washington Semester and its ancillary programs for many years before I joined the AU community and Washington Professional Development," she said. "He is respected — even cherished — by our affiliate institutions and alumni. I look forward to working with Dave to broaden our recruitment efforts, develop an alumni relations program, and leverage the rich relationships he has built around the world."

As Brown prepares for the next stage in his life, he leaves the top job at Washington Semester with no regrets. In fact, he's sure he had the best job at AU.
"No other job at the university gives an individual a chance to conceptualize, to create, to market, to implement, and to manage new programs," he said. "To have that satisfaction over and over and over again with different programs, to see them come to fruition and be successful and then to read student evaluations and they're happy with what they get here, that's extremely satisfying."