Communications
Photographer's Lens Is a Buffer and an Icebreaker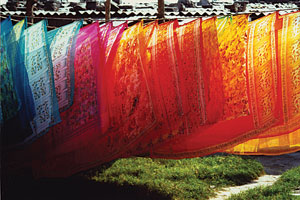 Leena Jayaswal learned how to be an American kid through the lens of a camera.
As part of the first Indian family in conservative, white Medina, Ohio, Jayaswal, who immigrated to the United States at age six, turned to photography as a way to bridge the divide between life in the States and her South Asian roots.
"I used the camera to be a part of the situation, but to still be removed," explained the School of Communication (SOC) professor. "It helped me maneuver both worlds."
Jayaswal's father, a cardiologist, introduced her to photography. "He was an amateur photographer; the kids always got to carry around his camera bag," she recalled with a warm laugh. Her parents gave Jayaswal her first camera for her 16th birthday: a Nikon 2020, which still holds a special place in her collection.
"My parents weren't typical of South Asian families. They didn't pressure us to go into a particular field or dress a certain way," Jayaswal said. "They said, 'we brought you to this country, embrace it.'"
It wasn't until she came to American University as an undergrad that Jayaswal, SOC '94, became curious about her Indian heritage.
"Growing up, I couldn't escape being different. I wanted to be like everyone else—until I got to college."
Her family's homeland became her favorite subject, as Jayaswal began traveling to India every six months to document places and faces. Though her portfolio includes stunning shots of the Taj Mahal and other iconic landmarks, she revels in intimate, everyday moments, captured on film.
"If I'm standing there with my camera, it's both a barrier and an ice-breaker. It opens up a dialogue. I love documenting those fleeting moments of connection," she explained.
Although her trips to India became less frequent after the birth of her son nearly two years ago, Jayaswal will return in February to document the history of her grandfather's neighborhood, where the family has resided for centuries. She's working on a similar series on the Petworth neighborhood in northwest Washington, where she lives with her husband.
"It's an exploration of what home means," she said of the complementary projects.
Jayaswal—who always juggles four to five projects at once—is also working on a series that explores multi-ethnic families: "I'm Not the Nanny." The light-hearted project is inspired by her son, Dev, who, aside from his dark hair, is the spitting image of his father, who's white. Jayaswal said she's often mistaken for his nanny.
"When we're out in the park, people will ask me who I work for. And I'll say, 'I work for him, he's my life,'" said Jayaswal of Dev, another of her favorite subjects. (She's taken a photo of him every day for the last two years.)
Several years ago Jayaswal branched out into documentary video, chronicling a woman's return to India after her father's death, in the 2004 film Crossing Lines. Her footage of the Ganges River is also prominently featured in the award-winning The River Planet, which will make rounds at film festivals later this year.
"I'm always looking for the next challenge. That's how you grow as an artist," said Jayaswal, who's currently in pre-production on a documentary about cricket in high schools. "I tell my students: it's not the end product, it's the journey."