Research
Human Research, Elevator Speeches, and a Side Salad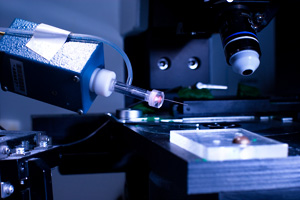 AU's labs have been busy this summer, staffed by paid undergraduate researchers covering topics as disparate as quantum mechanics, gene mutation, and psychopharmacology. They've spent their summer pipetting, observing through microscopes, and running mathematical models. Most are planning to go to graduate school; while a few are pre-med.
This summer, a regular lunch session brought AU's science, technology, and mathematics undergrads together to learn the practical side of research life. In lunchtime talks organized by physics professor Nathan Harshman and funded through the D.C. NASA Space Grant Consortium, groups of 15–20 students have met each Wednesday to practice elevator speeches, learn the ethics of human research, delve into the graduate school application process, and discuss other science topics.
At a ring of tables, these undergrads congregated each week over catered lunches (including favorites like "breakfast for lunch"), gathered pragmatic information, and mingled with students working in other fields.
Vikki Connaughton, a biology professor who has participated in the sessions explains, "They provide students with the opportunity to meet each other, while also giving practical information related to science research that they may not have been aware of or previously exposed to."
Harshman and other science faculty hope to treat this summer's sessions as a pilot of sorts and perhaps apply as a large group for future science research on campus. The lunch sessions are a simple demonstration of a broader commitment to undergraduate research in the sciences.
Marine biology student Alyssa Frederick '12 is working this summer as a research assistant at the Carnegie Institution. She's been to all the summer sessions and appreciates the personal attention she receives within her department. "There are a lot of us getting one-on-one time doing research with professors. There's obviously a lot of funding for it. I think the university is really trying to make it bigger and investing in our research, which is nice."
Over half of the students in the labs this summer are working under research awards funded by a gift from AU trustee and College of Arts and Sciences alumna Robyn Rafferty Mathias. Some are supported through departmental awards and individual research grants.
Two more lunch sessions remain. July 27, in the McKinley Building at noon, undergraduate researchers can gather tips on science research writing. The final session, August 3, will be an evaluation session and party.