Environment
SIS Prof's Honey-Do List: Master Beekeeping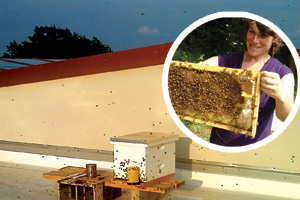 The School of International Service (SIS) is abuzz with activity. And it's not just the new crop of students we're talking about.
Ten thousand honeybees and their queen have taken up temporary residence on the green roof at SIS. Eve Bratman, professor of international development and amateur beekeeper, spearheaded the hive installation in May.
"Beekeeping seemed a natural way to have an even more positive ecological footprint," said Bratman, who formed a honeybee co-op of 35 SIS faculty and staff who chipped in for supplies and will share the bees' bounty. Within a year or two, the hive — which will move near the Kreeger Building in the fall to make it more accessible to visitors — will produce 40–100 lbs. of honey.
Bratman, who teaches units on urban agriculture and urban ecosystems in her Environment and Development class, has also installed two more hives near Kreeger.
"They're going to be very happy here in upper northwest Washington, where it's especially lush," she said of the bee population, which will eventually swell to 40,000–60,000.
Check out Bratman's blog for all the buzz about the bees.