In the Community
First Lady Honors AU's 'Nutrition Lady'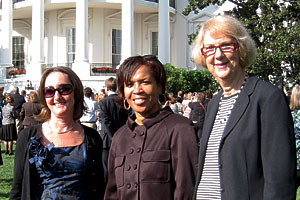 On October 17, First Lady Michelle Obama — whose Let's Move! campaign promotes physical activity for kids — recognized winners of the Healthier U.S. School Challenge on the south lawn of the White House.
AU professor Anastasia Snelling was among a group from Kelly Miller Middle School who were honored by Obama for their efforts to fight hunger, obesity, and disease among Washington's youth. Ward 7's Kelly Miller was the only middle school in D.C. to receive the silver award from the U.S. Department of Agriculture (USDA).
"You're affecting not just how these kids feed themselves, but how they're going to feed their own children," said Obama. "So the beauty is that you're not just making this generation of kids healthier, but the next generation as well. And that is truly powerful stuff."
A professor in the School of Education, Teaching and Health, Snelling has worked with Kelly Miller since 2009 as part of Community Voices for Health. Affectionately known as "the nutrition lady," Snelling has helped students and teachers integrate health and nutrition lessons into the curriculum, and helped parents master healthy cooking and smart shopping.
The Healthier U.S. School Challenge was established in 2004 to recognize schools participating in the National School Lunch Program that have created healthier school environments by promoting nutrition and physical activity. To date, 2,161 schools in 45 states have been recognized by the USDA.