Alumni
Meet the Press's David Gregory Returns to SIS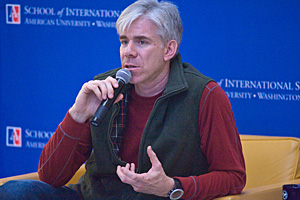 A crowd of students packed the SIS atrium. As David Gregory, SIS '92, host of Meet the Press, took his seat at the head of the room, he joked that he'd need to sit up straight for those crowded at the back to see him. They could.

Gregory returned to campus December 5 to chat with students on topics ranging from the troop withdrawal from Iraq, to marathon Republican debates, to where Gregory interned while he attended AU.

Gregory remembered how during his time here as a student, he juggled classes and worked hard at ATV (a comment met with cheers from the television station's current student producers). He detailed how he spent summers working as a paid reporter for an ABC affiliate in Tucson, and during the school year, worked for what was then the Fox News Service, voicing updates on the first Gulf War. Gregory got ahead, he said, because he pursued his goals very aggressively. "I didn't play around."

Indeed, he was NBC's White House correspondent by age 30.

He encouraged interdisciplinary thinking and a well-rounded approach for students interested in his field. "If you want to be a journalist and you're at SIS, first of all, you're at exactly the right place."

Beyond the practical advice, Gregory shared a window into Washington's machinery. From his purview as moderator of Meet the Press — a show Gregory described as "politics plus" — the reporter has been immersed in the stories that dominated headlines this year.

About the Super Committee, Gregory said the bipartisan panel was "doomed from the start." Beginning from the president's debt commission, Gregory sees the process as a "rope-a-dope" situation where the president got an early sense of the politics on the Hill: Republicans were unwilling to feel the pain that they wanted Democrats to feel, and Democrats insisted that if they were to swallow hard cuts in Medicare benefits or raise the retirement age, they would need a hefty tax increase in return. It was clear both sides would likely be unwilling to budge. In the end, Gregory says, the prevailing wisdom was "There is too much that needs to be done. It was too close to an election year. They want to let the election solve some of these issues, and so nothing's going to happen."
On the upcoming end of the war in Iraq, Gregory predicted, "there's not going to be any 'mission accomplished.'" The troops will be honored and success will be measured in establishing a government in Iraq, but with an uncertain path forward.
Recalling an interview in Afghanistan with General David Petraeus, Gregory said, "It's not really victory. It's understanding the end." Or in Petraeus's words, "Can we achieve an outcome that's good enough?"
On the shape of today's news media, Gregory noted that it's up to consumers not to silo themselves with news slanted to one perspective, to discern between tweets and stories reported using professional standards. "Not everyone is a journalist," he said pointedly. Given the state of communications today we all need to be critical thinkers and understand broad contexts. "The tentacles go everywhere, and that's what it means to be an SIS grad," Gregory concluded.
Watching Gregory wind expertly through such a range of significant topics is a boon for students. "He is one of our most accomplished alums, and he has been a major supporter of SIS over the years.  Having him come by to offer his insights on how his time at SIS benefited him, on what students can do to further their careers, and on important issues in world affairs was invaluable, and I hope we will see him again soon," noted SIS dean James Goldgeier.