On Campus
Groundbreaking SIS Dean Steps Down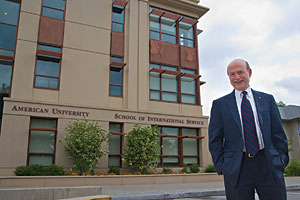 Lou Goodman planned to keep the job for a few years.
Sitting in his corner office on the ground floor of the gleaming new School of International Service building that was unimaginable a quarter century ago when his remarkable run as dean began, he reflected on a career set to enter a new phase.
"Once I got started here it seemed so obvious that SIS had a special niche in higher education in Washington, the United States, and worldwide," he said. "There seemed to be no end to the opportunities to develop SIS."
The school Louis Goodman walked into on July 3, 1986, was radically different from the school he'll step away from for a year following a 25-year tenure as its dean. After a one-year sabbatical, Goodman, who's often dubbed the dean's dean, will return in fall 2012 as a faculty member and teach classes on international development from his broad portfolio.

The Birth of SIS
Back in the mid-80s, in the midst of the Cold War, international service was part of the College of Public and International Affairs. Neither the public affairs nor international affairs faculty felt at home with that arrangement, and Goodman spent his first two years working to gain independence for the international unit of CPIA.
"One of his greatest accomplishments is he liberated us," said Professor Abdul Aziz Said, who sent Goodman a bowl of orange lilies on his first day. "He displayed the talents of a great diplomat, representing us with vigor, devotion, commitment, resourcefulness, and energy."
Goodman began his academic career as an assistant professor in the sociology department at Yale. But pining to be "closer to the action," he came to Washington to direct the Woodrow Wilson Center's Latin American Program.
"While that was a wonderful job, I really liked dealing with students," he said of his move to American University. "I thought I would get a tenured professor position and serve as dean for a time, then I would join the faculty and enjoy the kinds of relationships one has with students."
A funny thing happened on the way to the classroom. Goodman became so engrossed in growing the school, years, then a decade, then more years passed.
"Dean Goodman was thoroughly engaged in all aspects of SIS," said Professor Philip Brenner. "He knew each faculty member, each staff person, and probably most of the students. He will have thousands of legacies, as a result of the unique ways he influenced and touched the lives of thousands of people individually."

Envisioning a New Building
From the day he assumed the deanship, Goodman knew the school needed a new building. The East Quad Building, as it is now known, was too small for the school even in 1986.
"The old building was designed for 400 students and 20 faculty," he said. "While it was a nicely designed building at the time, it became depressing for people. One of the key things in education is to inspire the community. We wanted to design a building that said to [people], 'you have to think great thoughts.'"
Meeting weekly for nearly 10 years with a committee comprising many facets of the university community, Goodman led an effort to define the "values" of the school and translate them into a new physical space.
"The first one we thought of was the environment, because we knew the environment would be an important issue for the twenty-first century," he said. "The other two that were central were to enhance community and transparency."
Through its soaring glass, environmentally friendly features, and ample meeting space the building meets all three needs. When it opened in July 2010 with a speech by President Obama, Goodman marveled that years of hard work had paid off in magnificent fashion.
"While we had all these ideas, they were executed by the architect better than we imagined," he said. "These values have everything to do with the education we try to impart here at SIS: to inspire people to do great things, to steward the planet, to care about community, and to stress accountability and transparency in government."

Today's SIS
Since Goodman became dean SIS's student body has increased from the hundreds to 3,500 next year, and full-time faculty has grown by roughly five times. While he'll miss the intense working relationship he treasured with the staff, Goodman is looking forward to returning to the classroom.
"There is always another challenge around the corner, and there always will be," he said. "It's great to engage in conversations with 17- and 18-year-olds about what's going on in the world. The whole process of being a university professor is teaching your students, but also learning from your students.
"SIS has a wonderful mission — training people to do international public service, which was the intention of the founders more than 50 years ago," he said. "The more we told the story, people wanted to come to Washington to make a difference in the world. We attracted pragmatic idealists and continue to attract them from all over the world."