Literature
Poetry: Connections and Communication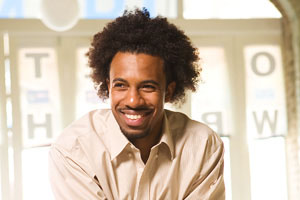 Kyle Dargan, who teaches in the College of Arts and Sciences' literature department, published his first book, The Listening, winner of the 2003 Cave Canem Prize, when he was 23. Now 31, he published his third book, Logorrhea Dementia: A Self-Diagnosis, in 2010.
As part of a collaboration between the national President's Committee on the Arts and Humanities and 826DC, a nonprofit group dedicated to helping students ages 6–18 with their writing skills, Dargan helped launch a collection of poetry written by local high school students. In the spring he also led the students in readings of their work at the Library of Congress and the White House.
He talked about that experience and his work with American Today.

Q: How did students react to reading their poetry in the White House in front of Michelle Obama?

A: We kept telling the students what this was about and who was on the President's Committee. People like Forest Whitaker and Yo-Yo Ma and Sarah Jessica Parker and Ed Norton and Kerry Washington. I don't think they believed us. When we got to the White House and these people started showing up . . . we said, 'We told you. I don't know why you haven't believed us. We haven't lied to you up to this point.' So it was a pleasant surprise to see them realize the magnitude of the event.

Q: How important was the experience of putting together a poetry collection?

A: Actually, I think the anthology in terms of connecting to writing and possibility is more important than the trip to the White House. It's one thing to go to the White House and read a poem; it's another to have a poem of yours actually published in a book . . . I know for me when I got my first poem published, it changed the way I thought about it. I thought maybe I can do this to a greater, more sensitive degree.

Q: Do you remember your first poem?

A: First exactly, no. I remember when and why. In high school I would write poems for my friends' girlfriends because they would give me money or some other kind of favor, a barter system, and I would write a poem that they would hand off as their own to impress their girlfriends. It's a strange enterprise, but mainly [I did it] for the challenge . . . That challenge has led to others. I'm always just trying to give myself some challenge in writing a poem. I like to write and I like to write books, but I don't ever want it to be easy.

Q: Do you think of poetry as a performance art?

A: It is a form of communication, first and foremost. Whenever you're giving a reading you're trying to make that connection with someone . . . The poet who died a couple years ago, Sekou Sundiata, [had] a saying, 'The page or the stage, it's all wood,' suggesting that the way a poem functions on paper, it has to function the same way on the stage.

Q: Has poetry as a performance art gotten a boost from the popularity of hip-hop?

A: People don't expect someone like me to say this, especially someone who comes from such a hip-hop background, but I've never looked at rap and poetry as the same. Rap uses certain elements of poetry. They share elements of rhythm, rhyme, wordplay. But an MC has to have an awareness of the music underneath the track and has to be able to play and work with the spaces in the music. That's different than being a poet, because as a poet you write a poem, you're creating that bass, that underlying music as you write it.

Q: You have a real talent for crystallizing images. I'm thinking of the description in your latest book of the tunnel going from New Jersey into New York City, the "still armadas of brake lights."

A: I just try to be as precise as possible. I always push my students. When I circle things in their writing I say, 'This entire phrase, I bet if you just thought about it long enough you could find one word or two words to do that.' Because that's what impresses you about poetry. How precise can it be? Anyone can sit and listen to someone babble on about something until they've captured everything about it, but the point of poetry is to make a decision about what you show and try your best to show it as efficiently as possible.

Q: What do you read besides poetry?

A: Honestly, I like reading prose, specifically novels, more than I like reading most contemporary poetry. Novels seem nowadays a bit fuller, a bit more challenging. I don't see poets taking this many risks or doing as many interesting things. I think contemporary poetry has sort of been in a lull.

Q: What kind of lull?

A: The trap of the self. I do believe that the self is important in poetry, but it's more about the self in conversation with the world and not just continual mining inward and inward and inward and thinking the minutiae of your life is what makes poetry. It doesn't. Poetry is about connections and communications. There's lots of poetry that has given up on the charge to communicate. And I think that's a problem.