Government & Politics
Political Gains for Women Remain Elusive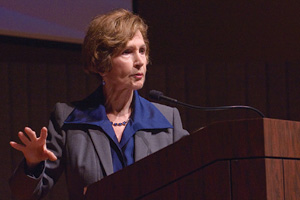 It's been a busy week for AU alum Connie Morella, SPA/MA '67, the former congresswoman from Maryland, ambassador to the Organization for Economic Co-operation and Development, president of the Montgomery County Commission for Women, and college professor. Now ambassador in residence in AU's School of Public Affairs, she has recently returned from Haiti, where as one of five global ambassadors she worked with Haitian women as they came together for a platform of action to get women involved in all issues in the country.

In the week she talked with American Today, during Women's History Month, she had met with a group of Arab women leaders and attended the 35th anniversary celebration of the Congressional Caucus for Women's Issues, which she had once chaired.

How important has the women's movement been to your career?

It inspired me to engage in elective office. The women's movement put the movement in me. We were lobbying for the Equal Rights Amendment and then equity for women in employment and education. You know, you couldn't be a Rhodes Scholar if you were a woman at that time. During those years when you might have a baby, you had to sign an affidavit that your job would not be held for you. That's what got me started running for office.

This is the 20th anniversary of the 1992 push to elect women to Congress. But the great gains hoped for haven't  panned out. Why aren't more women running for Congress?

I think they lack the confidence factor. They often think they need 45 PhD degrees to be eligible to run, to be qualified. Men have got more confidence.

[In addition to money concerns], they also have concerns about will I be able to handle my family? More and more men are engaged in helping out with family, but it does seem to fall more on the woman. Will the children be okay? Will there be adequate schooling? And then the question, do I move to Washington or stay in my home state and go back on weekends?

And I would add to that the poisonous rhetoric, the environment, of politics. They feel, do I want to expose my family or myself to this?

How does the atmosphere in Congress today compare with when you were serving?

[I get to the Hill frequently, and members] tell me how awful it is. And redistricting has made some seats so comfortable that the members don't have to reach out. When I was there, which wasn't that long ago, it isn't that people agreed with everything. It's simply that they had more respect for each other, and they knew more people. Right now, they don't actually know each other. They really don't.

Would it be possible today for people like you or Nelson Rockefeller or Charles 'Mac' Mathias to win a Republican primary?

I went to Harvard as a resident fellow during the presidential election; [the study topic I came up with was] An Endangered Species: The Moderate in the House of Representatives. If I could go back now, I think I would have to change my topic, and it would be An Extinct Species: The Moderate in the House of Representatives. At this moment I can commiserate with Olympia Snowe [the Republican senator from Maine who had just announced she would not seek reelection], whom I love. I don't mean to be pessimistic but I don't see any change coming right now.

How did you as a Republican in a heavily Democratic district manage to stay in office for so long?

As Charlie Cook [editor and publisher of The Cook Political Report] said of me, when I was in office I would go to the opening of an envelope. So they all knew me. I was everyplace. Even though I didn't vote the way everybody wanted, I think people want you to know they're there and that you're listening.

What achievements in Congress are you proudest of?

I was on the Science Committee, and I'm very proud of the work I did on that committee, like the Technology Transfer Act. [In addition to representing federal employees] of course I have to mention the women's issues, the Violence Against Women Act, not only in 1994 when it passed but in 2000 I was a prime sponsor of its reauthorization.

We just celebrated the 20th anniversary at the end of last year of the Office of Research in Women's Health at NIH. So this year is the 21st year and I was there at the beginning with that legislation. That meant that women would be included in clinical trials and protocols where they weren't before. Frankly women were being treated like little men, and yet anatomically we're not. For instance, the number one killer of women is heart disease. No one ever recognized that.

You raised nine children. You took in six of them when your sister passed away. And on top of that you were teaching and later working as a legislator. How did you do it?

You had to have a sense of humor or else you'd cry all the time. We might have had a lot of dust in the house but at least we knew what they were doing educationally in school. So it was a matter of setting priorities.