Journalism
Investigating Power Honors Legendary Reporters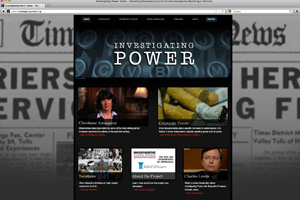 Had Woodward and Bernstein — and their editor Barry Sussman — not followed the money, Watergate might be best known as a snazzy condo and office building on the Potomac. If Murrey Marder hadn't doggedly reported on Joseph McCarthy in the 1950s, the Army hearings that brought down the Wisconsin senator might not have been held. Had there been no Seymour Hersh, the atrocities at My Lai, Vietnam, would not have come to light until later.
Without American University professor Chuck Lewis's new multimedia project, Investigating Power, the story of 26 legendary investigative journalists and the impact of their work would not be preserved for history in one place, a virtual page A1, above the fold. 

InvestigatingPower.org, a collection of interviews, documentaries, and informational timelines, went live on April 25 following an event at the National Press Club honoring Lewis and other titans of investigative reporting.

"By interviewing the greatest generation of investigative journalists of the last half century, and talking about their work in context in history, Chuck Lewis and his team have put together something with an enduring legacy," said Bill Buzenberg, executive director of the Center for Public Integrity, a cosponsor of the project. "Without the investigative work that's represented here, we would all be in the dark about so many things that have happened."
Founder and executive editor of the School of Communication's Investigative Reporting Workshop, Lewis has a long history of what he likes to describe as "investigating the bastards." A reporter since 1977, he worked as a producer for ABC News and on 60 Minutes before founding the Center for Public Integrity. Under his leadership, the nonpartisan center published roughly 300 investigative reports and was honored more than 30 times by national journalism organizations. His fifth and last coauthored book with the center staff, The Buying of the President 2004, was a New York Times bestseller.
It was from research for a forthcoming book, The Future of Truth: Power, the News Media and the Public's Right to Know, that Investigating Power was born.
"The book is about what's happened to truth," he said. "It was clear to me that I had to start talking to the iconic figures during some of the most notable moments in contemporary U.S. history. I did a lot of conversational research and reading about who those were. I came up with a list of about two dozen people and started to interview them."
Lewis and his crew, including senior producer Margaret Ebrahim and producer and video editor Ted Roach, SOC/MFA '11, turned 100 hours of high definition footage (which took two years to shoot and another two to edit) into 42 conversations that appear on the website. Dozens of hours remain on the virtual cutting-room floor — for now. Lewis sees Investigating Power as a living project to which more subjects and information will be added.
"We've only scratched the surface," he said.
The 26 featured journalists include household names like Woodward and Bernstein, Hersh, Ben Bradlee, and the late Mike Wallace, whom Lewis worked with at 60 Minutes. But Lewis also sought out lesser known but no less influential reporters like Marder.
"I want to remind the public how important original reporting is, that it takes time, and it costs money," Lewis said. "Murrey Marder was on McCarthy for four full years. The paper that he worked for, the Washington Post, since '08, has gone from 900 people in the newsroom to fewer than 600. We are losing the canaries in the coal mine of democracy, which are the reporters."
The site also features nine documentary shorts, including pieces on McCarthyism, civil rights, Vietnam, Watergate, corporate power, and post-9/11.
"By calling [those segments] 'Moments of Truth,' what I'm suggesting is that if we didn't have information and the public didn't see certain things, we could have not done the right thing," Lewis said. "If Americans had not seen people being hosed in the streets of Birmingham, if they didn't have that in their face, literally, we might have a different country."
That belief in the vitality of journalism is one reason Lewis founded the Investigative Reporting Workshop in 2008. Investigating Power was executed through the IRW, which raised $300,000 through grants to bankroll the work.
"I do training and I teach, but this is the biggest single thing I feel I've done for the profession," said Lewis, who readily admits it's not what he originally set out to accomplish. "This information is going to be useful for every professor in the United States and around the world who teaches this stuff in the classroom. That almost takes your breath away."
Panelists at the launch event included Bill Kovach, former Washington bureau chief of the New York Times, Dana Priest of the Washington Post, and Sussman. They all praised Lewis's work, calling it crucial in a time when the public's support for investigative journalism seems to be waning.
Lewis knew the project's title had to seize the public's attention.
"Investigating Power is a little edgy. I'm a mild-mannered guy, but that's what we're talking about, whether you're investigating government at the time of a war that perhaps may not be necessary, or a company product that's killed 100 million people in the twentieth century, we need somebody out there watching those people, and it's not daily journalism we're talking about, it's in-depth journalism.
"These are the people that do it and did it at the highest possible level. This is an attempt to tell their story."